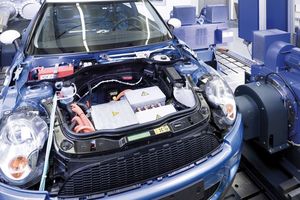 Acoustic Engineering for Electrification
The experience of drivers and passengers in electric vehicles is quite different from current IC engine driven vehicles. As the masking noise of the IC engine is missing, more attention is placed on other noise sources like fans, pumps and power electronics. Additionally, new legislative regulations for the minimum exterior sound of electric vehicles opens up new fields for NVH development.
---
AVL Approach
Some years ago AVL started internal electrification R&D projects. Based on these experiences we were able to successfully implement various projects for our customers.
The main NVH topics for electric vehicles are:
Feedback for the driver to inform him about the current vehicle condition
Interior sound generation
Exterior sound generation to meet legislative regulations
Sound branding
Reduction of auxiliaries (fans, pumps, …) noise
NVH contributions for electrification support are:
Vehicle NVH analysis
Target sound definition
Sound quality assessment
In order to support our engineers during NVH development, AVL developed specialized NVH tools. These tools are designed and implemented under the lead of acoustic engineers to meet the engineer's needs. Please find a detailed description of our tools in the "Acoustic Engineering Tools" section.
---
Customer Benefits
As the sound pressure level in electric vehicles is quite low, there is plenty of room for sound engineering to provide the driver feedback about the vehicle's driving condition and to generate an interior noise that brands the vehicle and pleases the driver and the passengers. Based on AVL's NVH tools and AVL's experience from our internal and joint R&D work as well as customer projects we are very well prepared to support our customers.
Your benefits:
Experience from R&D and customer projects
AVL NVH tools supporting sound engineering
Modules for active sound generation for interior and exterior noise
---
References
Satisfied customers are the best evidence for successful projects and developments. The AVL acoustic engineering team has been performing customer projects as well as research projects for more than 40 years. Due to confidentiality reasons the published references for our work are limited – but this is part of our sustainable success.
Latest Project Examples
NVH Development of a range extender for pure electric vehicles (EVARE)
AUDI A1 E-Tron
---