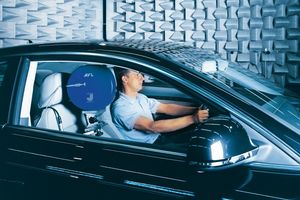 Acoustic Engineering Tools
To assist engineer during NVH development AVL implemented software tools that are highly specialized on NVH. These tools are currently integrated in the development process of AVL. Additionally our customers are using these tools for NVH development as well as NVH monitoring during the development process.
---
---
AVL Approach
AVL's tools can be applied to a wide range of NVH tasks.
Objective Sound Quality Assessment and Interior Noise Benchmarking (AVL VOICE)
Pass-By Noise Development (AVL PCA)
Sound Engineering (AVL SOUND EDITOR)
AVL's Artificial Head System (AVL SOURCE)
---
Benefits at a Glance
AVL's tools are designed and implemented under lead of acoustic engineers to meet the NVH engineer's needs.
Your Benefits
Support for NVH engineering work by specialized NVH tools

Objective sound quality assessment
Pass-by noise development
Sound design

Standardized NVH assessment and monitoring by integration of tools into the NVH development process
---
AVL Voice
Objective assessment of sound quality is the main purpose of this software tool. Based on the experience of AVL engineers and the results of various R&D projects AVL VOICE is able to assess more than 30 sound quality parameters. Starting from simple sound pressure level calculation for different frequency weightings up to highly complex parameters like sportiness or an objective assessment for diesel combustion knocking.
Integrated into the worldwide development of our customers AVL VOICE software is used for:
Objective evaluation and target setting of vehicle interior noise quality and sound aspects
Supporting subjective evaluation procedures
Vehicle benchmarking
Effective vehicle sound engineering
---
AVL Pass-by Noise Contribution Analysis (PCA)
68 dB(A) in 2024 is the new pass-by noise limit within the European Union. To achieve such a challenging task, we have developed a tool that allows NVH engineers to identify the main contributors to the pass-by noise in a very efficient way. After analysis, this tool provides possibility for prediction of improvement effects on the pass-by noise level.
FEATURES
Fast identification of vehicle noise source contributions
Reliable identification of vehicle noise source contributions
---