Go back
AVL Hands-on Workshop: Virtual Watermanagement with PreonLab
March 28, 2019
AVL Niederlassung München, München, Germany
Share
Register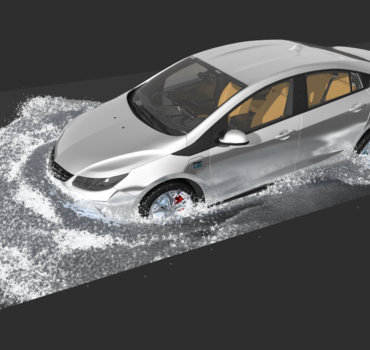 Share
March 28, 2019
AVL Niederlassung München, München, Germany
Register now!
AVL Hands-on Workshop: Virtual Watermanagement with PreonLab
Be part of the simulation community
Register
---
AVL und FIFTY2 Technology veranstalten am 28. März 2019 einen kostenlosen Hands-On-Workshop zum Thema virtuelles Wassermanagement mit
PreonLab
. Neben einer Vorstellung von PreonLab und der vielfältigen Anwendungsbereiche bei unseren Kunden möchten wir Ihnen die intuitive Handhabung des Simulationswerkzeuges an einem konkreten Anwendungsbeispiel näherbringen:
Topic
Hands-On Use Case: Virtuelle Wasserdurchfahrt
Die Watfahrt stellt nicht nur einen kritischen Prüfstein für viele Fahrzeugtypen dar, sondern ist auch eine anspruchsvolle Herausforderung für die Simulation mit konventionellen CFD Methoden. In diesem Workshop werden Sie nicht nur lernen wie die netzfreie Simulation mit PreonLab derartige Aufgabenstellungen effizient ermöglicht, sondern auch die Gelegenheit haben ein entsprechendes Simulationsmodel selbst zu generieren. Sie werden erleben wie Sie durch das Zusammenspiel aus effizientem Preprocessing und hoher Performanz optimale Designentscheidungen treffen können. Die marktführenden Möglichkeiten der Visualisierung mit PreonLab und die flexible Auswertung von Simulationsergebnissen werden auf Basis des erstellten Models diskutiert.

Erfahren Sie mehr über die innovative Simulationslösung PreonLab und gewinnen Sie Einblicke in neue Anwendungsbereiche, die dieses Werkzeug Ihnen eröffnet. Nehmen Sie an diesem Workshop teil und erleben Sie selbst, wie einfach es ist, mit PreonLab in kürzester Zeit aussagekräftige Ergebnisse zu erhalten.

Die Teilnehmer des Workshops erhalten eine Testlizenz, um aktiv mitzuarbeiten und im Nachgang das Werkzeug selbstständig zu erkunden. Alternativ besteht die Möglichkeit einen Trainingsrechner zu nutzen.

Sichern Sie sich jetzt Ihren Platz, die Anzahl der Teilnehmer an diesem kostenlosen Workshop ist begrenzt!
---
Agenda
09:30 - 09:45
Begrüßung und Vorstellung
09:45 - 10:30
Virtual fluids, real insights – Vorstellung PreonLab und Neuerungen in Version 3.3
10:30 - 11:00
Kaffeepause
11:00 - 12:30
Hands-on Use Case Teil 1:
Virtuelle Wasserdurchfahrt – Verlässliche Aussagen in der frühen Entwicklungsphase
12:30 - 13:30
Mittagspause
13:30 - 14:30
Erfahrungsberichte von einem PreonLab-Pionier – AVL qpunkt stellt sich vor
14:30 - 15:00
Kaffeepause
15:00 - 16:30
Hands-on Use Case Teil 2:
Virtuelle Wasserdurchfahrt – Verlässliche Aussagen in der frühen Entwicklungsphase
---
Location
AVL Niederlassung München, München, Germany