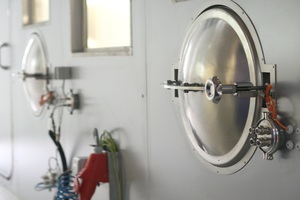 AVL VT/VV-SHED Systems
AVL VT/VV-SHED systems constitute a state-of-the-art test system with specifically adjusted optimization with regard to the individual analysis tasks.
---
AVL Approach
AVL VT/VV-SHED systems constitute a state-of-the-art test system with specifically adjusted optimization with regard to the individual analysis tasks. The focus has been placed specifically on material selection, automation and gas analytics.
---
Benefits at a Glance
Uniform and analytically optimized testbed system.
Compliant with legislation (EPA, CARB, ECE, etc.)
Improved flexibility, quality and reproducibility of the test results accelerate development processes.
Improved user interface for extremely simple operation and service-friendliness.
MSR stand-alone system topology for independent online test automation, even without a PC.
Optimized total cost ownership system concept supported by AVL Global Customer Service, eSpares and remote interface.
---
Market Requirements
Increasingly higher demands require adequate and flexible evaporative emission systems supporting certification as well as R&D testing.
---
Functions
Volume Compensation Module
An inside volume compensation bag realizes an enclosure operation at various temperatures. A demountable grid provides an easy bag installation and guarantees homogeneous air circulation, temperature and HC spreading inside. The bags are designed for usage in evaporative emission test systems. A special conditioning process eliminates evaporative inter-actions and hydrocarbon background. The AVL Pneumatic Unit includes all necessary modules and devices for pneumatic operation of the SHED chamber. It provides a highly accurate volume sampling system based on MFC technology. The intelligently designed system performs self-diagnostic functions (e.g. automatic leak checks of pneumatic unit, bag and sealing). A Mass-Flow Controller based system for bag preparation, volume compensation and recovery function provides high accuracy and reliability. A special calibration guarantees readings that are more precise than 0.5 % (full scale) and long term stability for more than 1 year. A volume compensation mode can be selected between passive and active mode. After bag conditioning (depends on selected test cycle) the pneumatic unit will perform volume compensation in one of the two possible ways (active vs. passive mode). The passive mode provides a free interaction between bag and ambient (open bypass valve). The active mode provides a controlled airflow based on a MFC signal for bag filling and evacuating. A software integration routine provides an online volume calculation based on the MFC flow reading.
Analytical Devices
The SHED AMA i60 is available as an analysis unit equipped with different configurations for the specific measurement tasks.
Various gas analyzer modules are available for the measurement of THC, CH4, Ethanol, Methanol, R134a, VOC, etc.
Fully integrated interfaces to the necessary calibration devices (gas dividers and CFO testers) are standard.
---
Technical Data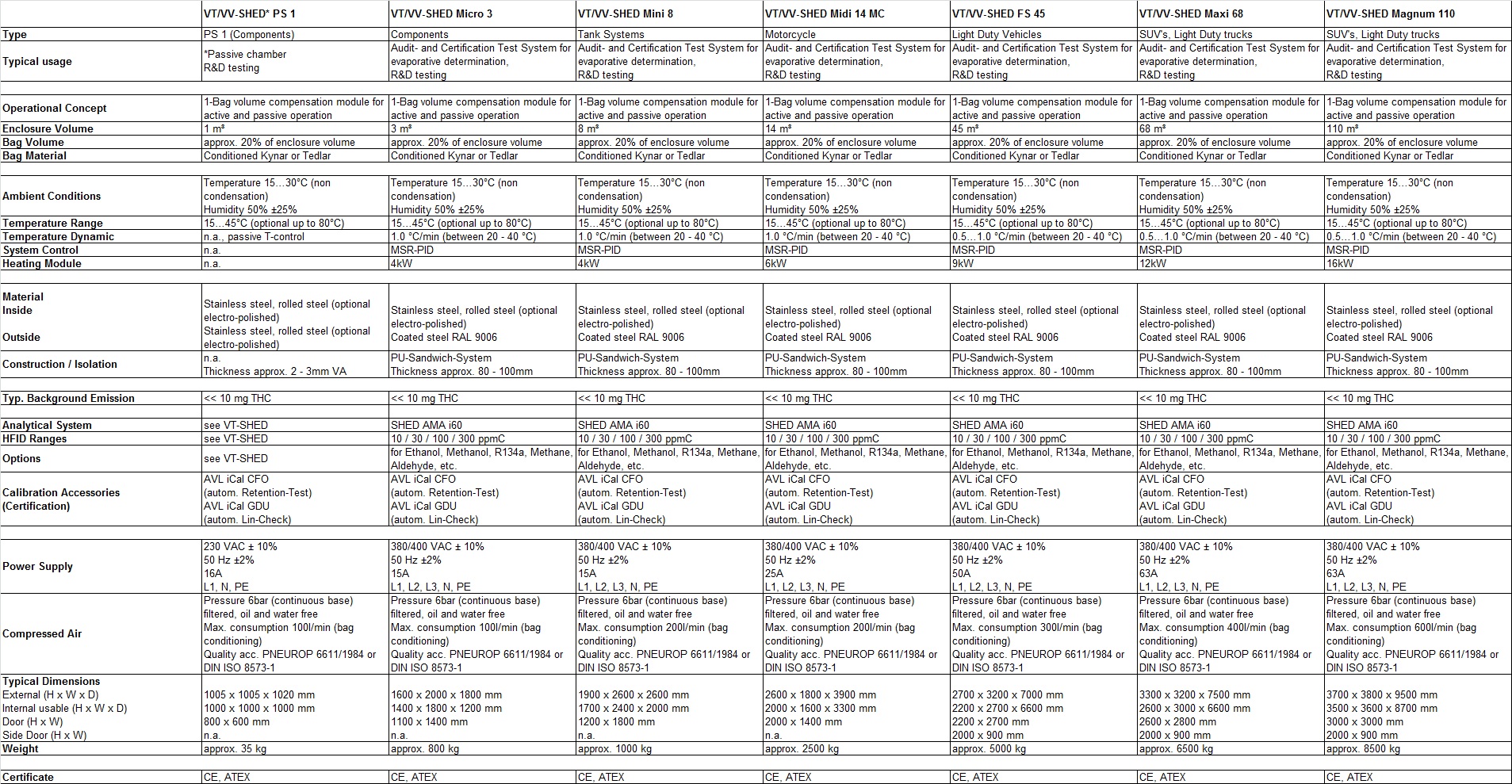 ---
Applications
AVL SHED systems cover a wide range of applications for R&D tests or for certification purposes:
Passive/Mini SHED (bleed emission, component testing).
Midi SHED (for tank systems, motorcycles, SORE products).
Full-size/Maxi SHED (for passenger cars and SUVs).
Magnum SHED (vans, trucks).
Running loss SHED (special system with integrated chassis).
Operating together with the AVL CANLOAD (canister loading station) and AVL FUELLOAD (fuel cart for fuel conditioning) systems, it stands for a complete facility, which allows that the whole evaporative test procedure is carried out, from canister conditioning and refueling to final emission data evaluation.
Automation interfaces for facility management or chassis dyno test cells and database server compatibility show the great integration potential of AVL evaporative systems solutions.
The AVL VT/VV-SHED system is designed to be capable of operating unattended on a continuous basis (24 hours a day, 7 days a week) with a fully automated data acquisition system and safety module.
AVL SHED systems cover a wide range of applications for R&D tests or for certification purpose:
Component and R&D testing concerning tank and fuel delivery systems.
Component and R&D testing for air conditioning systems (coolant detection, e.g. R134a).
Component and R&D testing for vehicle interior (VOC measurement).
Standard vehicle testing for certification.
ORVR vehicle testing.
Running loss vehicle testing.
Vehicle testing for alternate fueled cars e.g. LPG, CNG, ethanol, methanol, etc.
Hybrid vehicle testing.
The AVL equipment complies with all the latest regulations such as EPA, CARB, ECE and other regulations. Therefore, all technical specifications of the European Commission Directives and of the US Environmental Protection Agency (EPA) are matched or even exceeded.
---
Available Types
The following types of AVL VT/VV SHED evaporative emission systems are available:
VT/VV SHED Passive – 1m³ (separate external temperature control required) specific component testing module, e.g. isolated bleeding emission or canister permeation analysis.
VT/VV SHED Micro – 3m³ individual component testing.
VT/VV SHED Mini 8m³ individual component or complete tank system testing.
VT/VV SHED Midi – 14m³ individual component or complete motorcycle testing.
VT/VV SHED Full Size – 45m³ light-duty vehicle testing including ORVR extensions.
VT/VV SHED Maxi – 68m³ light-duty vehicle testing, SUVs and small light-duty trucks.
VT/VV SHED Magnum -110m³ light-duty vehicle up to light-duty truck testing.
All mentioned variations of the VT/VV SHED can be configured for different categories. The distinction is based on material, design and structure (specific solutions):
Low emission
SULEV setup
Alternative fuels setup
Special component setup (e.g. Aldehydes, coolant fluids, etc.)
---