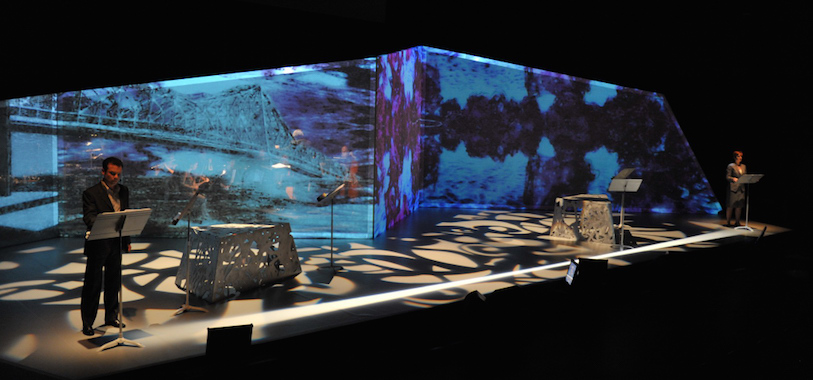 ---
AVL Cultural Foundation presents a behind the stage look at the opera "Hypermusic Prologue". Step into creativity in all its forms and this unique fusion of art and physics.
The art in science and the science in art has found a unique expression in this joint adventure of the composer Hector Parra and Harvard physicist Lisa Randall, creating "Hypermusic Prologue: A projective opera in seven planes". String theory finds its way into stage design, into the musical composition and the libretto. The result is a new dimension for the traditional and historical form of an opera. We at AVL Cultural Foundation find the process and story behind the development of the opera and this amazing collaboration between Parra and Randall to be much too exciting not to be told.
---
Hypermusic Prologue
"Hypermusic Prologue" is a love story between Ellette (soprano) and Bobby (baritone), whose relationship is challenged by Ellette's love of science, specifically theoretical physics. In the course of the story, Ellette embarks on a journey into the fifth dimension. Wondering how the love story ends ... and, in fact, where and how it all began? Conclusion: Art (and love) is all that matters.
---
The opera
The opera was first performed at the Centre Georges Pompidou in Paris, in 2009, and was commissioned by the IRCAM Institute and the Ensemble Intercontemporain. In 2013, the opera celebrated its world premiere as scenic opera in Berlin, under the direction of Benjamin Schad and with the orchestral performance of the Zafraan Ensemble.
AVL Cultural Foundation: creating spaces of ongoing and open dialogue between the disciplines.
---
Quote
"The real basis you can work on between art and science is the technology. Because in technology you have the numeration and you have also the human aspect where it connects. It's the common ground."
---