Register for this webinar
Webinar registration
Webinar registration cancelled
25718884
Register for this webinar
Cancel registration
You have been successfully registered.
Your registration was successfully cancelled.
Registering ...
There was an error registering you for this webinar! The page will be refreshed.
Cancelling registration ...
There was an error cancelling your registration! The page will be refreshed.
There was an error joining the live webinar! The page will be refreshed.
You are now registered for on demand! The page will be refreshed.
There was an error registering you for on demand!
Could not open on demand link!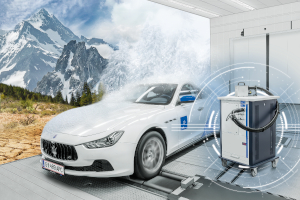 Particle measurement: principles, climate and barometric applications
Efficient solutions for extended RDE conditions
Presenter:
Ariele Galeazzi
true
April 2, 2020
2:30 PM CEST
60 mins
This webinar has already taken place.
description
Gli ultimi standard antinquinamento prevedono una limitazione sempre più stringente del numero di particelle (PN) emesse dai motori a combustione interna.

Il CPC – Condensation Particle Counter – è la tecnologia prevista dalla legge per la misura dei PN in laboratorio. I contatori di particelle di tipologia CPC vengono utilizzati in modo sempre più frequente durante la fase di sviluppo del motore o del veicolo con lo scopo di replicare in laboratorio le condizioni ambientali di pressione e temperatura attese nelle fasi finali di test RDE – Real Driving Emission – per le auto, e ISC – In-Service Conformity – per i veicoli pesanti. Risulta di assoluta importanza uniformare la tipologia dei dati prodotti dai dipartimenti R&D rispetto a quelli dei laboratori emissioni al fine di imporre un target ingegneristico coerente.

Per garantirne un utilizzo rapido ed efficace, i moderni CPC sono equipaggiati di tutti i sistemi di diluizione e controllo del campione di gas prelevato. Tuttavia, per effettuare una misura corretta, ripetibile ed interpretarne i risultati, è opportuno conoscere le dinamiche di formazione delle particelle e i principi di misura degli strumenti stessi.

Partecipando a questo webinar avrai la possibilità di acquisire maggiore consapevolezza sul processo di formazione delle particelle nei motori a combustione interna, sul principio di misura CPC e sull'importanza di effettuare una diluizione del campione coerente. Verranno inoltre forniti esempi applicativi per effettuare una misura a regola d'arte anche in condizioni di prelievo difficili.
date and duration
April 2, 2020 2:30 PM CEST
60 mins