Employee Empowerment
The competitive forces that AVL faces today – and will continue to face in the future – demand organizational excellence. That's why we have a strong stance on caring for our employees, enhancing their knowledge and skills.

To stay competitive and successful, we pursue a structured, global approach to learning, human development and talent management – but we also take care of our employees by promoting health measures and a constant optimization of working conditions.

Having recognized that our success is definitely driven by our employees, we strive to empower our staff to give their best – with the goal to improve the performance of our business.
Employer of Choice
In 2018 and 2019, AVL List GmbH was awarded the title "Austria's most attractive employer". This was the result of an independent study conducted by Randstad Employer Branding Research with more than 4,500 respondents. Participants rated Austria's companies according to attractive salaries, interesting job content or the use of the latest technologies.

Further HR Awards:
Finalist – State Prize KNEWLEDGE (2018)
Great Place to Work in apprenticeship (2018)
MINT seal of quality for "AVL Kindergarten" (2018)
Most family-friendly companies in Styria - 2. Place (2017)
FFG Regional Prize "Jobs Through Innovation" (2017)
State-Approved Apprentice Training Company (since 2013)
Managing Talent
Onboarding
The professional onboarding of new employees is more than just on-site training. At AVL, new employees are integrated into the company in just a few weeks as part of a comprehensive "Newcomer Welcome Program", to sustainably increase and maintain productivity. From the initial "First Day Experience" and "Buddy System" to the targeted feedback interview – everything is geared towards making it as smooth as possible for the new employees to get started.

Development and Training
As an innovative company with a strong customer focus, we interpret development as a holistic process that empowers our staff to improve their personal, business and technical skills in a knowledge but also experience-based way. Development activities are a joint effort by the company and the individual to work out the potentials and skills needed to fulfill the company's goals and at the same time ensure personal growth. At AVL, training comprises all forms of acquiring know-how and experience – that is, face to face, e-learning, on the job-training, mentoring, etc. All training is based on needs and skills. Whilst the focus of training activities is on the job that an individual currently holds, a holistic approach is used whenever possible to prepare AVL's staff for the ever-changing conditions in a mainly project-driven environment.

Career
Within the existing organization, there are basically two career paths and people can switch from one to the other at any time: The expert career, which includes all technical employees from engineering and sales, but also all technical positions from local and corporate management departments; and the line management career in the form of disciplinary and organizational/functional management of organizational units and/or governing bodies.

Annual Appraisal Interview
The performance and development appraisal is our essential tool within the performance and development management process. It is a central management and leading aspect and vital in our Human Resource Development. Together with the line manager, employees discuss and define personal development plans and career opportunities during the annual appraisal.

Benefits
We offer our employees a variety of additional benefits, such as hotel benefits, a culture fund, a culture check, a bicycle check, a company newspaper, travel expenses and public transport, financial support for the birth of a child/wedding/retirement/Christmas and many other amenities.
Health Care and Occupational Safety
Health Management
The physical and mental well-being of our employees is a top priority at AVL. An extensive range of sports offered by the company's own sports club, numerous fitness courses, health initiatives such as "Iron WoMan" or "Fit for Future", as well as regular health days and expert lectures on company health promotion support this leitmotif. AVL is responsible for providing preventive care for all employees. Selected, qualified occupational physicians and industrial psychologists provide health protection, ergonomic work structures and work-related occupational health promotion. Medical experts and sports scientists are available at all times to provide advice and assistance to employees, employee committees and safety officers.

Occupational Safety/Protection
At AVL, we apply globally binding standards for health protection and occupational safety. The company is committed – both globally and locally – to protecting the health and safety of its employees, and to comply with all applicable health and safety regulations. We strive to continuously optimize internal company strategies and measures within the framework of work and health management.

Safety Training
Ignorance about how to act in potentially dangerous situations can be just as worrying for employees as a lack of knowledge about how to act professionally and responsibly in such incidents. This often helps to increase the subjective feeling of insecurity. We offer our employees regular safety training in the form of courses and seminars to allow them to respond to standard and extreme situations (e.g. in the event of a fire) in a coordinated, stress-proof, appropriate and largely error-free manner, and to take preventive measures to counter future dangerous situations.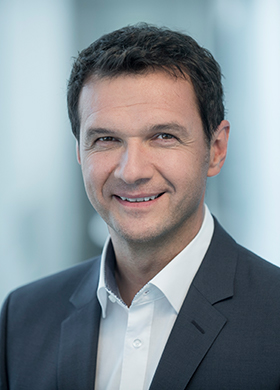 Dr. Markus Tomaschitz, Vice President Human Resources
"We care for our people"
Work-Life-Balance
Flexitime
AVL strives to take the personal needs of its employees into account through a flexible flexitime system. Employees can determine the start and end of their daily working hours within a given framework. This gives employees more freedom to plan their private appointments and leisure activities.

Working Hours Based on Trust
Trust-based working hours at AVL focus on completing a task on time or achieving an agreed goal rather than focusing on the time required to do so. Employees record their working time themselves, and they are trusted to actually perform the work and the corresponding working time without having to punch a time clock.

Maternity Leave
AVL is committed to complying with the statutory maternity leave regulations and also strives to provide support to expectant mothers before, during and after maternity leave: structured exit and reentry with supplementary and additional training, further training seminars during maternity leave, individual career planning, working hours with regard to care duties, return talks and opportunities for a smooth reentry.

AVL Kindergarten
Since 2013 AVL has been operating its own company kindergarten in Graz with space for more than 100 children. Our enthusiasm for science and technology begins here. Our in-house technology specialists visit the children regularly and work with them on technical experiments.
People Involvement
AVL Improvement Process
The purpose of the AVL Improvement Process is to encourage economic innovations and ideas for improving profits. Within this process, suggestions to improve internal workflows are systematically filed, evaluated and implemented.
All our staff can and should participate – no matter what area they work in. Nobody knows the potential for improvement better than the employees in the individual areas, since they encounter this in their day-to-day work.

Social Dialog – Works Council
We have an institutionalized employee representation in the form of a works council. This co-determination body under works constitution law ensures that employees comply with the standards applicable to them and, at the same time, promotes measures to protect the environment at the workplace and within the company.