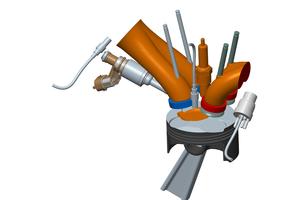 Measure & Control
GCA - Gas Exchange and Combustion Analysis Software
AVL GCA is a high sophisticated tool for thermodynamic analysis of IC-engines. It is both a "virtual sensor" and a design tool for the whole engine process.
---
AVL Approach
AVL GCA consists of two calculation steps:
First, combustion analysis is executed and subsequently gas exchange analysis is done, whose result is in turn supplied to the combustion analysis, which is then calculated for the second time for higher accuracy.
---
Benefits at a Glance
GCA providing e.g. residual gas content / energy balance / mass flow balance
Based on BOOST: detailed consideration of the whole engine process
Integrated into AVL IndiCom in online operation at the test cell
Integrated into AVL CONCERTO in the office
Plausibility Check in stationary and transient operation
Consideration of gas dynamics in intake and exhaust
---
Key Features
Key features

Description

The virtual sensor


With knowledge of immeasurable values, such as:

Residual gas content
Scavenging rate
Parameter for charge motion
Energy balance
Wall heat transfer
Rate of heat release
Efficiency (loss analysis)

Detailed information is available about:

Combustion quality
Potential for power increase
Potential for reduction of fuel consumption

With this understanding action can be taken that ensures safe operation with best efficiency and therefore lowest fuel consumption at all operation points.

Integration into IndiCom / CONCERTO



AVL GCA is used with AVL IndiCom and supplies the data online on the test bed.
The offline-version with AVL CONCERTO is used to be able to do extended analyses afterwards.

Based on AVL BOOST



The one-dimensional thermodynamic calculation plays a central role in the development process of modern combustion engines. The closer we look at thermodynamics the better we understand engine performance.
With BOOST AVL offers a sophisticated tool for the 1-D simulation of the entire engine.
AVL GCA uses parts of this simulation in combination with measurement values. For this purpose a limited part of the engine (intake – cylinder – exhaust) is considered in a very detailed way.

Transient operation


Especially when the engine is running in transient mode like the NEDC-test (New European Driving Cycle), detailed cycle by cycle investigation is important regarding emission and efficiency at certain load changes.
But also steady state operation – with its typical cycle-to-cycle variation necessitates combustion stability.
Both operation modes are perfectly covered by AVL GCA.

Plausibility



With AVL GCA the calculated pressure curve can be compared directly with the measured pressure curve and the plausibility of the values can be checked. To this purpose the low-pressure phase of the measured cylinder pressure curve is checked with AVL GCA.

The calculation of mass flow via the valves is coordinated with the test bed measurements of air mass flow and fuel mass flow. This allows AVL GCA to detect the incorrect measurement of the cylinder pressure trace in the intake phase.

Mastering complexity


The more parameters need to be taken into account, the more complex and costly the analysis becomes. This requires detailed knowledge of the thermodynamic processes in the combustion chamber – especially regarding for example the relation between mixture preparation, charge motion, combustion stability and wall heat loss.
AVL GCA extends this knowledge. AVL GCA provides access to values that cannot be measured directly. Therefore, it enables deep insights into internal engine processes and thermodynamic procedures. This knowledge can be directly used for DOE (design of experiment) engine optimization.
---