Register for this webinar
Webinar registration
Webinar registration cancelled
26458276
Register for this webinar
Cancel registration
You have been successfully registered.
Your registration was successfully cancelled.
Registering ...
There was an error registering you for this webinar! The page will be refreshed.
Cancelling registration ...
There was an error cancelling your registration! The page will be refreshed.
There was an error joining the live webinar! The page will be refreshed.
You are now registered for on demand! The page will be refreshed.
There was an error registering you for on demand!
Could not open on demand link!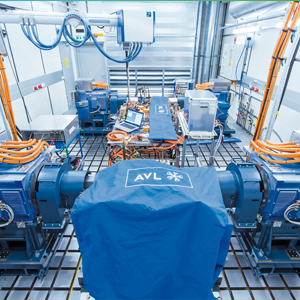 Un análisis del estado del arte en bancos de ensayo para tecnologías de propulsión híbrida y eléctrica
Movilidad eléctrica: Tendencias en medios de ensayo para desarrollo y validación
Presenter:
Laurentino Gutiérrez
true
April 22, 2020
4:00 PM CEST
60 mins
This webinar has already taken place.
description
Las restricciones mundiales de emisiones de CO2, así como la demanda social de una movilidad más limpia, constituyen un gran reto de desarrollo tecnológico para nuestra industria, sobre todo la del automóvil.
El desarrollo de sistemas de propulsión electrificados genera nuevos desafíos en medios de prueba para automoción, adentrándose en campos antes ajenos, como electrónica de potencia o baterías de alto voltaje. Estas soluciones de ensayo deben poder combinar componentes reales con otros emulados, permitiendo así someter al sistema a las demandas de carga reales de conducción desde las etapas tempranas del desarrollo. Esto facilita una integración transparente en los prototipos finales para su validación.
En nuestro webinar mostraremos un resumen del estado actual de estas tecnologías, así como los desafíos que se presentan para los bancos de ensayo y el entorno de desarrollo. Podrás informarte sobre los siguientes puntos:


Qué demanda el mercado


Cuáles son los componentes de los sistemas de propulsión híbridos y eléctricos


Los diferentes niveles de electrificación (MHEV, HEV, PHEV, BEV…)


Un resumen de los campos de aplicación de cada tipo de sistema según el vehículo


Bancos de ensayo y métodos de desarrollo de tecnologías de electrificación en AVL


Los retos futuros en el desarrollo de baterías, electrónica de potencia y motores y su influencia en los laboratorios


¡Inscríbete ahora a nuestro webinar gratuito el 22 de abril para conocer más y resolver tus dudas!
date and duration
April 22, 2020 4:00 PM CEST
60 mins