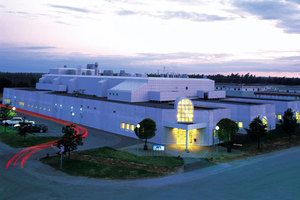 Test Facilities Haninge & Södertälje, Sweden
Location: AVL MTC & SPEAB Scandinavia, Sweden
Notified Technical Service and Holder of Significant Accreditations
---
AVL MTC Holder of Significant Accreditations
MTC has been in the AVL-group since 2002. In 2008 we acquired SPEAB, the former GM Powertrain Engine Development Plant in Södertälje. AVL Scandinavia differentiates itself through its unique combination of
Long experience in engine development from concept to production
In-house powertrain / engine control system
Alternative fuel competence
Local engineering capacity
Local testbeds, engine and vehicle integration workshops
---
Skill Areas and Services
Alternative fuels & powertrains
Engine design
Powertrain development
Simulation & analysis
Software and function development
Resident engineering
Emission development
Certification & Homologation Compliance
Light duty testbeds up to 350 kW
Asynchronous dynamometer

Up to 800 Nm
Up to 10 000 rpm


Heavy duty testbeds up to 660 kW
Asynchronous dynamometer

Up to 4 400 Nm
Up to 3 500 rpm


Chassis dynos
For application & certification

LD chassis dynos (cold chambers)
HD chassis dyno
MC chassis dyno

Emissions Measurement
Pre- and post-catalyst raw gas analysis, diluted & CVS bag emissions, fast FID, on-board emission measurements, full and partial flow gravimetric particle measurement, particle number measurement (PMP), particle size distribution, FTIR, mass spectrometer, smoke meter, opacimeter, micro soot sensor

Measurement
Air mass, flow, lambda, cylinder pressure, pressure, temperature, vibration, blow-by, oil consumption and vibration measurements

Conditioning
Combustion air, water, oil, fuel and charge-air conditioning thermo shock & intense cooling

Testbed automation
Steady state and high dynamic testbeds equipped with e.g. PUMA, ISAC, CAMEO, INCA & other ECU application software

Data analysis
AVL Concerto
---
Alternative Fuels
Long experience in Flex fuel and Bi-fuel engineering.
---
Controls
Over 15 years experience of implementing SW for engine management into serial production projects. Successful rapid transfer from concept to serial production.
---
Dynamic Heavy Duty Transmission
Heavy duty transmission testbed with possibility to load 800 kW and 5.500 Nm or maximum 21 kNm with reduction gear box.
---
Single Cylinder Testbed
Light duty single cylinder testbed with forced induction capability.
---
Certification & Regulation Compliance
EC tests
Japan TRIAS tests
In-service vehicles (IUC)
Conformity of production
Certification of components
---