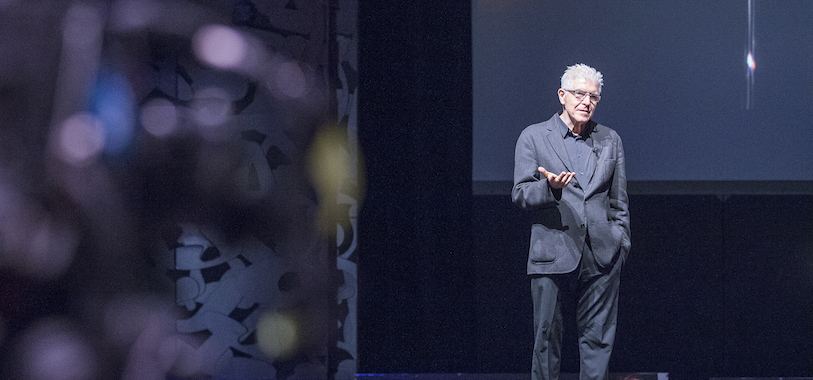 ---
Artists at Work: In conversation with sound sculptor Bill Fontana, one of the most influential figures shaping sound art since the 1960s.
An alternative perspective on sound has always been the motivation behind Bill Fontana's passion for making hidden sounds come alive. In his work, the so-called sound sculptures, he asks questions not many people would dare to ask: What does the Golden Gate Bridge or the Large Hadron Collider sound like? This is why his art has never been outdated, as the quest for hidden sounds seems infinite, the field to discover endless and the results astonishing. On invitation by AVL Cultural Foundation, Bill Fontana engaged in conversation on his inspiration for and fascination with sound at Impuls: International Ensemble and Composers Academy for Contemporary Music in 2015. Visiting AVL and exchanging ideas with engineers opened up shared visions and a variety of topics yet to be discovered. Boundaries are pushed; technology turns art into a new kind of fascination.
---
Quote
"I think my work is a combination of the scientific part that interests me a lot, but sound is a very sensual medium, a very emotional medium. I like to use my knowledge of the science and the tools of that to make something that is inspiring."
---
Technology Inspires
Technology Inspires Sound
Fontana's passion for making the hidden sound audible using refined measurement technology has produced an outstanding series of works, which are exhibited widely at the most important museums, e.g. the Whitney Museum of American Art, the San Francisco Museum of Modern Art, the Tate Modern in London, the 48th Venice Biennale. Some of Fontana's recent works include Sonic Mapping, a permanent sound sculpture at the MAXII Museum in Rome; Desert Soundings, a project in Abu Dhabi interrogating the sound elements of the desert sand; Acoustic Time Travel, his unique work with the Large Hadron Collider at CERN.
AVL Cultural Foundation: opening doors for exciting adventures in arts & science.
---