Register for this webinar
Webinar registration
Webinar registration cancelled
11709167
Register for this webinar
Cancel registration
You have been successfully registered.
Your registration was successfully cancelled.
Registering ...
There was an error registering you for this webinar! The page will be refreshed.
Cancelling registration ...
There was an error cancelling your registration! The page will be refreshed.
There was an error joining the live webinar! The page will be refreshed.
You are now registered for on demand! The page will be refreshed.
There was an error registering you for on demand!
Could not open on demand link!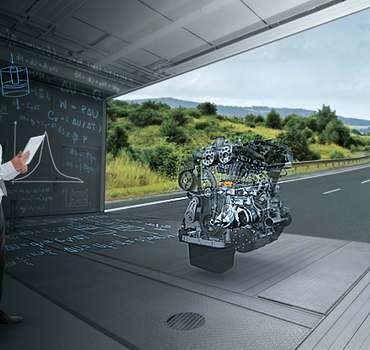 Formeln erstellen leicht gemacht mit AVL IndiCom™ Teil 1
Presenter:
Peter Rollenhagen
true
April 2, 2019
11:00 AM CEST
60 mins
This webinar has already taken place.
description
Ein wichtiger Bestandteil von AVL IndiCom™ ist der Formel- und Skripteditor auf Syntax-Basis. Professionelle Anwender schätzen seine vielfältigen Verwendungsmöglichkeiten z. B. zur Erstellung eigener Mess- und Speicherskripte, zum einfachen Zugriff und zur Verarbeitung der Messdaten oder um Berechnungen nach eigenen Algorithmen durchzuführen. Der Editor ermöglicht die Erstellung eigener Formeln für eine übersichtliche Visualisierung in Diagrammform und erleichtert die Übermittlung der Daten an die Automatisierung. Darüber hinaus bietet er die Möglichkeit, Resultate von der Automatisierung oder anderen Messsystemen in die Berechnungen miteinzubeziehen.
Möchten Sie mehr darüber erfahren, wie Sie mit dem Formel- und Skripteditor die Softwareeigenschaften um Ihre kundenspezifischen Applikationsmodelle erweitern können?
In diesem 60-minütigen Webinar erhalten Sie einen Einstieg in die Verwendung des Formel- und Skripteditors von AVL IndiCom™. Sie erfahren alles Notwendige, um effizient mit dem Editor in AVL IndiCom™ zu arbeiten. Dieses Webinar ist der erste Teil einer zweiteiligen Webinarserie zum Formel- und Skripteditor von AVL IndiCom™.
Hier
können Sie sich für den zweiten Teil anmelden.
Inhalt des Webinars: Grundlagen für die Erstellung einer Formel anhand von Formelbeispielen
Schwerpunkte:


Verwaltung von Formeln


Variablen (Arten und Verwendungen)


Handhabung der Tools zum Programmieren (Debuggen, Hilfefunktion)


Tipps zur Nutzung der Arbeitsumgebung und des Datenexplorers


Praktische Formelbeispiele:




Cursorpunkt auf einem Signalverlauf


Formatanpassung eines Wertes in Abhängigkeit der Zahlengröße






Erfahren Sie, wie Sie das volle Potenzial von AVL IndiCom™ ausschöpfen können.
date and duration
April 2, 2019 11:00 AM CEST
60 mins