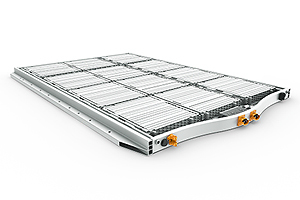 Electrifying the Future
Battery Solutions Ranging from Technology Innovation to Series Development
The switch to electromobility is posing big challenges for the entire automotive industry. At AVL, we are ready to face these challenges. As one of the leading development service providers in the world, we have the necessary tools, the relevant expertise and a global network. This strong position allows us to actively drive technological progress in the development of electrified vehicles. Battery development plays a crucial role here. Based on your specific requirements, we develop tailored solutions for all vehicle types. Our goal is always to achieve the cost objectives we have set, as well as to reduce the time-to-market. We cover the full range of development – from lab to mass production. That's why we are the industry's partner of choice for battery systems and all other technical aspects of automotive battery development – from the assessment and design of a single cell and its safe integration, to SOP of a fully validated battery pack.

Mechanical and thermal pack integration in the vehicle, with low-cost design, performance, serviceability, energy efficiency and recyclability at all levels of integration, from traditional to future concepts like electrode2chassis.

Testing and Benchmarking
Our highly instrumented cell and battery testbeds enable the testing and benchmarking of everything from high-power, high-energy cells to complete battery packs up to 1500kW.

Thermal and Mechanical Simulation
Fully virtual development and validation in battery development are the motivation for AVL to refine and extend the tools, which already allow a >90% virtual validation. Best-in-class thermal propagation inhibition development is already available to our customers today.

Battery Design Engineering
All aspects of mechanical and electrical integration are managed by AVL's experts to ensure that the battery design meets volume production requirements.

Battery Prototype Build
Prototypes of any sample state, from single units to several tens of A and/or B samples, can be built to order during or after design engineering.

Battery Management System (BMS) Development
Our proprietary battery management system assures the safe operation of the battery pack according to ISO 26262, while maximizing battery performance by, for example, providing very accurate SOX values.

Production Process Development & Line Layouts
The AVL Battery Innovation Center is a module and battery assembly pilot line, offering a platform that is open to customers to promote the innovation of production processes and the further development of conventional batteries, as well as cell2body and module2chassis concepts. Functional and process development go hand in hand.

Battery System Validation
Lifetime and warranty targets are assessed by battery experts using a dedicated methodology in the areas of reliability, durability, and validation.

Battery Testing Tools and Emulation
We deliver advanced battery testing tools and emulation solutions, in the form of AVL E-Storage Tester™ and Emulator™. Entire battery lab turnkey solutions are also available.

Battery End of Line Testing Machinery and Production Software Integration
Integration of battery validation tools at the stations (module, subsystem) or at the end of the production line, with test hardware and the integration of software integration in the production management system. No operators needed for 24/7 operation.
---
---