{attributes={}, name=downloadList, data=, type=selection_break, options=[], optionsMap={}, mainTitle={attributes={language-id=en_US}, name=mainTitle, data=Discover more, type=text, options=[], optionsMap={}}, sectionList={attributes={}, name=sectionList, data=, type=selection_break, options=[], optionsMap={}, sectionIcon={attributes={language-id=en_US}, name=sectionIcon, data=newsletter, type=list, options=[], optionsMap={newsletter=Newsletter, download=Download, software=Software, white-paper=White Paper, webinar=Webinar}}, sectionName={attributes={language-id=en_US}, name=sectionName, data=Contact us, type=text, options=[], optionsMap={}}, downloadFiles={attributes={}, name=downloadFiles, data=, type=selection_break, options=[], optionsMap={}, LinkTitle={attributes={language-id=en_US}, name=LinkTitle, data=Get in touch with our experts!, type=text, options=[], optionsMap={}}, CTALink={attributes={language-id=en_US}, name=CTALink, data=https://www.avl.com/registration-cta?articleId=17728242&groupId=10138, type=text, options=[], optionsMap={}}, DownloadFile={attributes={language-id=en_US}, name=DownloadFile, data=, type=document_library, options=[], optionsMap={}}}}}
false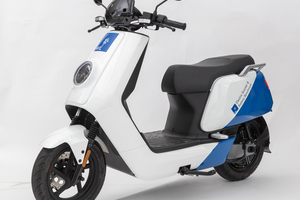 Big results, small vehicles
Electrified 2 Wheelers
Delivering clean mobility to two-wheeled applications
Emission-free mobility is a growing trend around the world, with some cities creating designated low-emission zones where only certain types of vehicle are permitted. China, in particular has taken this a step further, with electrified 2 wheelers being the only vehicles permitted in some downtown areas.

As well as China, there is also a strong public interest in electric mopeds and e-bikes across Asia and Europe. Fun and convenient, electrified 2 wheelers represent a large opportunity to deliver environmentally friendly mobility at a large scale.

With millions of electrified 2 wheelers already sold around the world, the demand for these vehicles is outstretching electric cars. Offering a high degree of mobility with relatively small initial investment and operating costs, they are an attractive option for end users.

Emission Free Mobility in a Compact Size

At AVL we are able to apply our broad e-mobility experience to even the smallest vehicles. From electrified motorcycles to strong e-bikes or even luxury e-scooters, we aid OEMs in the development of a range of systems and e-motors. Our competence includes:
Electric system layout
Battery simulation and design
Electric motor design and simulation
Electric component development and prototyping (including battery, e-motor, inverter and more)
Control and function development
Complete vehicle development
E-bike benchmarking
A History of Innovation

At AVL we benefit from a global infrastructure and a network of experts that spans the world. Combined with seven decades of automotive development experience it gives us unmatched insight and experience.

Our experience covers the design and development of all the relevant components and disciplines for automotive electrification. This includes specific solutions for electrified 2 wheelers. E-motors, batteries, charging and power controls and hybrid systems which include combustion engines are all covered by our expertise.

Our R&D activities in all of these areas allows us to support our customers throughout their development process. Furthermore, we can offer huge benefits from the synergies utilized in other development programs across AVL.
---