Press Releases
Press Release Filters
Note: Click on the FILTER button to apply your filter Settings.
Year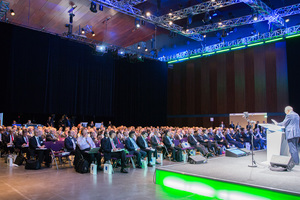 Engine 2020: Spark versus compression ignition in a new environment
26th AVL Conference "Engine & Environment" in Graz
The theme of this year's "Engine & Environment" conference, which was hosted by the high-tech company AVL for the 26th time, was "Engine 2020: Spark versus Compression Ignition in a New Environment." On September 11 and 12, 2014, the potentials of diesel and spark ignition engines were compared and discussed. AVL was delighted to have secured high-level individuals in the industry, such as Mitsuo Hitomi (Mazda Motor Corp.), Dr. Thomas Johnen (General Motors Europe), Dr. Andreas Schamel (Ford Forschungszentrum Aachen GmbH) and R. Velusamy (Mahindra & Mahindra Ltd.), as speakers at the conference.
---
The competition between diesel and gasoline engines has not only led to an impressive development of the individual technologies respectively, but it has also allowed for a number of synergy potentials to be realized. Charging, direct injection, externally cooled exhaust gas recirculation, lean combustion exhaust aftertreatment and particle filters emerged from diesel engine development, but now have become essential components of modern gasoline engines. Conversely, it is the topics of variable valve trains and catalyst heating strategies that made their way from the gasoline engines into the diesel engine design. Both combustion methods have seen a more distinct differentiation between consumption and high performance concept.
For many years, AVL has not only been working to advance the development and improvement of the aforementioned combustion technologies, but has also been deeply involved in the vast field of alternative drive systems. These have been implemented in numerous customer projects, as well as specific in-house developments by employing AVL's newest simulation tools and measuring systems. This unique combination of development tools and engineering know-how within AVL allows for unerring goal achievement in terms of legislation, efficiency and also market requirements.
In 1988 AVL hosted the Engine & Environment conference for the first time to provide an independent, neutral and international platform to promote the interdisciplinary discussion of key aspects in engine and vehicle technology in a wider social context – environmental and energy issues as well as legal framework conditions.
AVL is the world's largest independent company for development, simulation and testing technology of powertrains (hybrid, combustion engines, transmission, electric drive, batteries and software) for passenger cars, trucks and large engines. As of 2013 AVL had more than 6.650 employees worldwide and annual sales of EUR 1.05 billion.
Contact:
E-mail: press@avl.com