Press Releases
Press Release Filters
Note: Click on the FILTER button to apply your filter Settings.
Year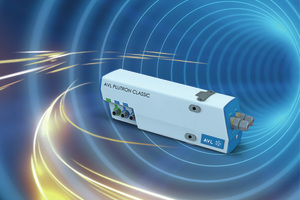 Press Release: AVL PLUtron™ - The Future of Fuel Consumption Measurement
AVL is heralding in a new era of fuel consumption measurement for applications on the test bed and in the vehicle with the introduction of AVL PLUtron™: The simple- to-operate devices in the AVL PLUtron™ series offer unique transient response together with higher resolution and greater measurement accuracy than conventional measurement devices. AVL PLUtron™ also boasts a high level of robustness and intelligent self-diagnostics, which help to sustainably reduce operating costs.
---
The increasing requirements for CO2 reduction via more efficient engines are often difficult to achieve under the constraints of growing cost and time pressure. Strict emissions legislation raise the issue of how the amount of fuel consumed in real world driving compared to legislative test cycles can be measured dynamically and efficiently
AVL PLUtron™ permits vehicle development engineers to carry out consumption measurements even easier than before – even for component tests. AVL PLUtron™ enables the efficiency of a test field to be increased by:
Rapid commissioning thanks to "plug&play" functionality
Reduced test bed runtime due to shortened stabilization and measurement times
Highest possible flexibility thanks to a broad measurement range with highest accuracy
Reliable results due to extreme robustness
Reduction of testbed downtime through intelligent self-diagnostic functions
The devices in the AVL PLUtron™ series represent a disruptive further development in the field of fuel consumption measurement and are available in the product variations AVL PLUtron™ CLASSIC and AVL PLUtron™ CORE.
More about AVL PLUtron™
---
AVL PLUtron™ CLASSIC
AVL PLUtron™ CLASSIC has been designed for use in flow measurement for a wide range of applications, for example in the vehicle, in component testing, in production or in engine calibration. The innovative "plug&play" functionality shortens the time required for installation and simplifies operation. The measurement device convinces with its high robustness against the raw conditions of a testbed environment, measurably reduces testing times due to its higher resolution and thus reduces the operating costs.
---
AVL PLUtron™ CORE
The precision flow meter AVL PLUtron™ CORE is used in AVL fuel consumption measurement systems (such as AVL FuelExact™ or AVL FuelSystem PLUtron™) and is characterized by a 50 times higher resolution than conventional measurement devices. The reduction of the device's dynamic reaction time to zero renders the device ideally suitable for high precision dynamic consumption measurements on engine test beds. Effective CO2 emission reductions can be achieved with the aid of the AVL PLUtron™ CORE, development effort can be kept low and complex boundary conditions can be handled cost-effectively.
AVL is the world's largest independent company for the development, simulation and testing technology of powertrains (hybrid, combustion engines, transmission, electric drive, batteries and software) for passenger cars, trucks and large engines. AVL has more than 8,050 employees all over the world. In 2015, sales revenues reached EUR 1.27 billion.
---