Press Releases
Press Release Filters
Note: Click on the FILTER button to apply your filter Settings.
Year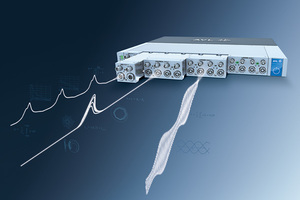 Press Release: AVL X-ion™ - The New Dimension of Data Acquisition
AVL X-ion™ is a unique high-speed data acquisition system that brings data quality and test field efficiency to the next level. Designed for engineers who want to master future challenges in powertrain development, the innovative platform can be employed in areas such as indicating, optical investigations, rotational analysis, and e-Power measurement – to name but a few.

Facing ever more stringent emissions targets, the quest for an efficient and affordable powertrain routes invariably through complexity. Advanced combustion strategies on the one hand, and electrification on the other hand are the keys to clean propulsion, which means also a consequent increase in powertrain development effort. Confronted to this very same dilemma, and with the thirst for innovation, AVL has developed AVL X-ion™, the new high-speed data acquisition platform dedicated to powertrain development. AVL X-ion™ is a modular acquisition system that can be easily adapted to different units under test and test environments. It combines AVL's know-how and expertise in several application areas, namely indicating, optical combustion analysis, and e-Power analysis.

Powered by the well-known software AVL IndiComTM, which can be used for crank-angle and time-based acquisition tasks, AVL X-ionTM helps reduce the number of tools in the test environment, which strongly increases the testing and post-processing efficiency. Its unique modular concept – it can host up to 8 application-oriented "X-FEM" front-end modules combining analog-digital converter and signal conditioning - enables time reduction for changeover and retooling on the testbed. The possibility to deeply investigate not only combustion engines, but also e-motors or hybrid powertrains means also a stress-free transition to electrification.

AVL X-ionTM, thanks to its innovative benefits, is a future-proof investment which will inspire test field managers and development engineers, and will strongly contribute to the improvement of the testing quality and efficiency of new powertrains.

AVL is the world's largest independent company for the development, simulation and testing technology of powertrains (hybrid, combustion engines, transmission, electric drive, batteries and software) for passenger cars, trucks and large engines. AVL has more than 8,050 employees all over the world. In 2015, sales revenues reached EUR 1.27 billion.
---