Press Releases
Press Release Filters
Note: Click on the FILTER button to apply your filter Settings.
Year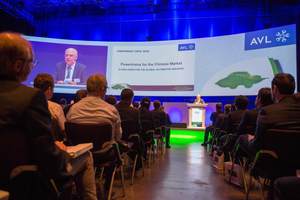 28th International AVL Conference "Engine & Environment" in Graz
Press Release: Powertrains for the Chinese Market
The 28th International AVL Conference "Engine & Environment" took place from 9th to 10th June 2016 at the Helmut List Halle in Graz, Austria. Since China has emerged to become the world's leading vehicle market, the topic of this year's AVL conference was "Powertrains for the Chinese Market: A Challenge for the Global Automotive Industry". Presentations held by high-ranking indus-try representatives like Christian Chapelle (PSA Peugeot Citroën Group), Dieter Strobl (BMW Group), Wolfgang Warnecke (Shell Global Solutions) and Peter Gutzmer (Schaeffler AG) shed light on the conference topic.
---
China has emerged to become the world's leading vehicle market. Despite a decline in 2015 compared to double-digit growth rates in previous years, an annual produc-tion volume of about 35 million passenger cars is still forecasted for 2025. This figure corresponds to the combined vehicle production volume of both Europe and Japan. Yet severe pollution problems in congested urban areas are forcing China to intro-duce one of the strictest exhaust emission standards worldwide. Both the highly topi-cal pollution issues and the situation of resources and competition are therefore making electrification a very attractive technology for China. However, the following question arises: Can the building of the required complex infrastructure keep pace with the rapid technical development of electric powertrains?
Challenges in the Development of Global Powertrain Technologies
Possessing a comprehensive insight into the specific economic boundary conditions and the dynamics of the Chinese market is one of the greatest challenges affecting the development of global powertrain technologies. Therefore, during the conference, presentations ranged from topics such as legislation to viable powertrain solutions and technologies. This way more light was shed on the conference theme.
In 1988 AVL hosted the Engine and Environment conference for the first time to provide an independent, neutral and international platform to promote the interdisciplinary discussion of key aspects in engine and vehicle technology in a wider social context – environmental and energy issues as well as legal framework conditions.
AVL is the world's largest independent company for the development, simulation and test engineering of powertrains (hybrid, combustion engines, transmissions, electric motors, batteries and software) for passenger cars, trucks and large engines. AVL has more than 8,050 employees all over the world. In 2015, sales revenues reached EUR 1.27 billion.
---