Press Releases
Press Release Filters
Note: Click on the FILTER button to apply your filter Settings.
Year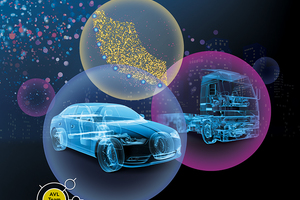 Press Release: AVL CAMEO 3™ - Standard Tests as Basis for Innovative Test Fields
The intelligent test automation AVL CAMEO 3™ allows the standardization of test runs for powertrain calibration throughout the company. The solution enables OEMs to significantly increase efficiency in their test fields. In addition, all calibration engineers, not only experts, can profit from the latest calibration approaches supported by AVL CAMEO 3™.
---
The setup and maintenance of test fields require huge investments. Therefore, an efficient and robust operation is a matter of great financial interest. This can be achieved by applying highly automated processes and advanced testing methods. Most of the test runs executed for calibration purposes are standardized and are frequently used in similar configurations. As a powertrain developer and testing technology specialist operating more than 250 AVL test beds, AVL knows from its own experience that standard tests offer a high potential for productivity growth. Thanks to AVL CAMEO 3™, users can now easily develop standard tests, which are tailored to their company. Moreover, these tests can be rolled out reliably to the overall test field. An additional advantage of standardization is that the test results become globally comparable, as they can be reproduced under exactly the same conditions. A global OEM has analyzed that after introducing standard tests in its test field, one test has four times more users then before. Moreover, the OEM has increased the number of overnight and weekend test runs by more than 100%.
Highest Efficiency Even for Complex Tasks
Through standardized test runs AVL CAMEO 3™ creates freedom for innovative calibration approaches, which are needed to solve, for example, the challenges of the new RDE legislation. The new approaches' goal is to use the expensive testing resources in an intelligent way. AVL CAMEO 3™ concentrates on the measurement points in areas that are hard to model, like areas with strong non-linearity. Areas that are not relevant for the development target are skipped. Therefore, considerably less measurement points have to be processed and the quality of results can be increased significantly.

AVL is the world's largest independent company for the development, simulation and testing technology of powertrains (hybrid, combustion engines, transmission, electric drive, batteries and software) for passenger cars, trucks and large engines. AVL has more than 8,050 employees all over the world. In 2015, sales revenues reached EUR 1.27 billion.
---