Press Releases
Press Release Filters
Note: Click on the FILTER button to apply your filter Settings.
Year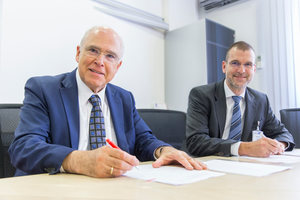 Cooperation Agreement Signed
Press Release: AVL and iwis to Develop Innovative VCR System
iwis motorsysteme GmbH & Co KG, a leading global supplier of chain drive systems for the automotive industry, and AVL List GmbH, the world's largest independent company for the development, simulation and testing of drive systems, announce the conclusion of a cooperation agreement. The aim of the cooperation is the series production of a two-stage hydraulic VCR system, developed by AVL, in order to implement geometrically variable compression ratios in internal combustion engines. Helmut List, CEO AVL: "In addition to low system costs, the OEM's primary focus is on easy integration into existing engine families at minimum investment."

The collaboration will cover the entire development and production chain, and will strengthen both of the companies' leadership positions for innovative automotive solutions. Because of its modular con-rod concept, the jointly developed Dual Mode VCS™ (Variable Compression Ratio System) is easy to integrate into existing engine architectures. This makes the Dual Mode VCS technology a cost-optimized solution to further reduce CO2 emissions in fleets.
---
The Two Partners
AVL draws on an extensive range of state-of-the-art development capabilities. iwis' role in the partnership is to support the joint development activities with its many years of experience in the large-scale series production of high-quality automotive components.

The iwis Group is a global technology leader for high-quality chain solutions and is one of the leading suppliers of precision chain drives systems and components for the automotive industry, as well as industrial applications in the mechanical and plant engineering, packaging, printing and food industries and materials handling. The iwis Group has 22 subsidiaries and offices all over the world and employs more than 1,400 people. In 2015, the company generated annual sales of €330 million.

AVL is the world's largest independent company for the development, simulation and testing technology of powertrains (hybrid, combustion engines, transmission, electric drive, batteries and software) for passenger cars, trucks and large engines. AVL has more than 8,050 employees all over the world. In 2015, sales revenues reached EUR 1.27 billion.
---