Press Releases
Press Release Filters
Note: Click on the FILTER button to apply your filter Settings.
Year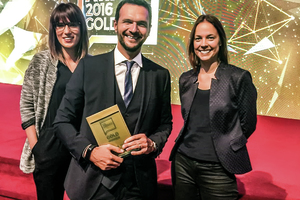 Press Release: Kunstprojekt für mehr Bindung und Motivation der MitarbeiterInnen
AVL wurde im Rahmen des Fachkongresses HR Inside Summit in Wien der HR-Award in Gold in der Kategorie "Unternehmenskultur" verliehen. Prämiert wurde "Passion verbindet", ein innovatives, gemeinsames Kunst-projekt von AVL Human Resources und der AVL Cultural Foundation mit und für AVL MitarbeiterInnen.

Mit dem HR-Award, der als Höhepunkt des Fachkongresses bei einer Gala in der Wiener
Hofburg erstmals vergeben wurde, zeichnet die heimische Personalbranche herausragende Ideen, Projekte und Persönlichkeiten in sieben Kategorien aus.

Gelebtes Employee-Branding vor dem Vorhang

AVL überzeugte die hochkarätig besetzte Expertenjury mit dem beeindruckenden Kunstprojekt "Passion verbindet / Connecting Passion" und wurde aus einer Vielzahl an interessanten Einreichungen als Sieger in der Kategorie "Unternehmenskultur" gekürt.

Ziel des AVL-Gewinnerprojektes ist es, Bindung und Motivation der MitarbeiterInnen zu stärken sowie den Erfolgsfaktor Mensch zu würdigen. Das gemeinsame Projekt von AVL Human Resources und AVL Cultural Foundation stellt die Vielfalt und Kreativität der Menschen, die hinter der Marke AVL stehen – porträtiert durch das Medium Fotografie – in den Mittelpunkt.

Fotograf Toni Muhr setzte die Individualität und den kreativen Geist der AVL-MitarbeiterInnen dabei gekonnt in Szene. Die Bilddramaturgie wurde in Zusammenarbeit mit den TeilnehmerInnen entwickelt. Jedes Foto erzählt eine persönliche Geschichte und spiegelt gleichzeitig auch die Vielseitigkeit des Unternehmens wider.

"Wir sind sehr stolz auf diesen Award. Die Auszeichnung ist Anerkennung unserer ambitionierten HR-Arbeit und weiterer Ansporn für die Zukunft. Besonderer Dank gilt unseren engagierten MitarbeiterInnen für ihre Teamleistung", so Markus Tomaschitz, Leiter Human Resources von AVL.

AVL ist das weltweit größte, unabhängige Unternehmen für die Entwicklung, Simulation und das Testen von Antriebssystemen (Hybrid, Verbrennungsmotoren, Getriebe, Elektromotoren, Batterien und Software) für PKW, Nutzfahrzeuge und Großmotoren. AVL beschäftigt weltweit über 8050 Mitarbeiter. 2015 betrug der Umsatz 1,27 Milliarden Euro.
Kontakt:
E-mail: press@avl.com
---