Press Releases
Press Release Filters
Note: Click on the FILTER button to apply your filter Settings.
Year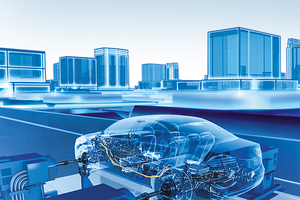 Press Release: The new AVL platform Testbed.CONNECT™ integrates simulation and physical test
AVL continues its efforts for digital continuity in product development. With its new platform Testbed.CONNECT™ the company connects physical testbed testing with simulation. This enables engineers to make well informed decisions on full vehicle level at every development stage.
Testbed.CONNECT™ is an open and robust platform that easily brings vehicle and component models to the testbed. Units under Test (UUTs) and models are combined to a mixed virtual-real prototype, which can be tested automatically, under reproducible conditions. Missing prototype parts can simply be substituted by component models. This new flexibility offers many options for early integration tests in the test fields. The advantage from simulation perspective is the possibility to improve the quality of the system models by feeding the test results back to the office. Furthermore, Testbed.CONNECT™ allows the connection of single testbeds. Test fields are thus transformed into intelligent and agile networks, where several testbeds can be turned into a whole integration testbed very quickly.
The new AVL platform is suitable for all testbed types independent from their suppliers. Testbed.CONNECT™ is not linked to a specific simulation software. Consequently, the detailed models available in most of the simulation departments at the vehicle manufacturers can be reused in the entire test field. It is possible to execute models from different sources either in a real-time or a non-real-time environment and to integrate them into the testbed environment. Testbeds do not have to be shut down for model changes. Parametrizations and analysis are conducted online. Thanks to advanced algorithms, the complex models are coupled to the real components in hard real-time with a sampling rate up to 10 kHZ.
Testbed.CONNECT™ is a part of the Integrated and Open Development Platform (IODP). This AVL strategy facilitates the holistic system development by extensive networking. "With Testbed.CONNECT™ we are closing the knowledge loop between the virtual and the real world", states Dr. Wolfgang Puntigam, Head of Department IODP. "Our customers are able to make decisions about the final product at any time during the development, because the necessary information is always available." Next to Model.CONNECT™ (AVL's co-simulation platform), Testbed.CONNECT™ is one of the key elements to implementing an agile and efficient development process for the next generation of smart, ecological vehicles.
AVL is the world's largest independent company for the development, simulation and testing technology of powertrains (hybrid, combustion engines, transmission, electric drive, batteries and software) for passenger cars, trucks and large engines. AVL has more than 8,600 employees all over the world. In 2016, sales revenues reached EUR 1.4 billion.
Contact
E-mail:
press@avl.com
---