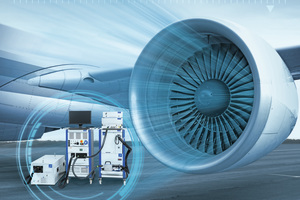 AVL Particle Measurement System Aviation
Measurement of non-volatile particulate matter mass and emissions number from turbojet and turbofan engines according to the AIR6241.
---
---
AVL Approach
The AVL Particle Measurement System Aviation is a commercially available solution to measure nvPM mass and number in compliance with AIR6241. The system consists of:
The sample probe and the connection heated line are customer specific parts in the measurement chain and thus not included in the scope of supply.
---
Market Requirements
Non-volatile particulate matter standard AIR6241
In 2016, the International Civil Aviation Organization (ICAO) introduced new global nonvolatile particulate matter (nvPM) mass and number standards. These will require the manufacturers of turbojet and turbofan engines with >26.7 kN thrust to report the nvPM mass and number emission indices (EI). The AIR6241 (Aircraft Information Report) describes the instrumentation and the measurement protocol for this new standard.
In order to keep testing efforts consistent with previous requirements, the new nvPM standard facilitates the measurement of the nvPM number and mass simultaneously with the currently used Gas Transfer System (GTS). The GTS is required to measure the smoke number and gaseous emissions and is specified in Annex16 to the Convention on International Civil Aviation.
An AIR6241 compliant nvPM Measurement System shall consist of:
Customer specific collection section comprising the sample probe and a connection line
Transfer section
Measurement section to determine the nvPM mass and number concentrations
---