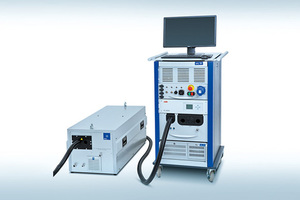 AIR6241 compliant sampling system
AVL Particle Sampling System Aviation
The AVL Particle Sampling System Aviation is a sampling and dilution system for the measurement of non-volatile Particulate Matter (nvPM) mass and number concentrations in aircraft turbines according to AIR6241.
---
AVL Approach
The AVL Particle Sampling System Aviation (PSS Aviation) is based on the European Fixed PM Reference System design and consists of three main components:
Front-end box
24 m self-regulated heating line
Back-end box
The front-end box includes all required components as described for the 3PTS (Particle Transfer System) according to SAE AIR6241 and is connected to the customer specific collection section. This section comprises the sample probe and a connection line.
The 24m self-regulated heating line (4PTS acc. to the SAE AIR 6241) connects the front-end box with the back-end box. Self-regulated heating segments ensure a constant temperature of 60±15 °C over the whole 24m heating line independently of the ambient temperature, e.g. -20 °C near the engine and +25 °C near the back-end box.
The back-end box trolley comprises the components described in 5PTS and the make-up flow unit. It provides an interface to the measurement instruments like the APC Aviation and MSS Aviation. In addition, a third device interface is available to connect other devices e.g. a size distribution instrument. An embedded CO2 analyser facilitates the calculation of the mass and number Emission Indices (EI).
---
AVL System Control Software Aviation
The AVL System Control Software Aviation (SCS Aviation) provides an easy and intuitive control of all system components via a single user interface. In addition to the sampling system, the nvPM instruments APC Aviation and MSS Aviation are easily integrated via a TCP/IP connection. The SCS Aviation offers:
All relevant data on a single screen
Automated functions and sequences enabling intuitive system operation
Limit monitoring of temperature, pressure and flow rate limits
Data recorders and a data browser
Analog and digital interfaces from the PSS Aviation facilitate the integration of additional components and provide an output of specific measurement and system data for an existing data acquisition system (DAS).
---
Benefits at a Glance
An AIR6241 compliant industrialized solution based on the European Fixed PM Reference System design
Ensures highest efficiency for increasing complexity of turbine testing and certification
Ensures convenient and efficient system operation:
Easy selection of various defined system states with one command, e.g. leak check or purging

Fully automated regulation of the pressure control valve and the diluent

pre-heater

Control of all sampling system components via a single user interface

including the APC Aviation and the MSS Aviation
---
Technical Data
Dimensions front-end box

WxHxD:
450 x 432 x 1060 mm

Protection class front-end box

IP54, NEMA 12+

Dimensions back- end box trolley

W x H x D:
660 x 1140 x 830 mm

Weight front-end box

approx. 95 kg

Weight back-end box trolley

approx. 120 kg

Power supply

230 V / 32 A

Interfaces

Analog Interface
Digital I/O Interface
TCP/IP Interface

---