{attributes={}, name=downloadList, data=, type=selection_break, options=[], optionsMap={}, mainTitle={attributes={language-id=en_US}, name=mainTitle, data=Discover more, type=text, options=[], optionsMap={}}, sectionList={attributes={}, name=sectionList, data=, type=selection_break, options=[], optionsMap={}, sectionIcon={attributes={language-id=en_US}, name=sectionIcon, data=newsletter, type=list, options=[], optionsMap={newsletter=Newsletter, download=Download, software=Software, white-paper=White Paper, webinar=Webinar}}, sectionName={attributes={language-id=en_US}, name=sectionName, data=Contact us, type=text, options=[], optionsMap={}}, downloadFiles={attributes={}, name=downloadFiles, data=, type=selection_break, options=[], optionsMap={}, LinkTitle={attributes={language-id=en_US}, name=LinkTitle, data=Get in touch with our experts, type=text, options=[], optionsMap={}}, CTALink={attributes={language-id=en_US}, name=CTALink, data=https://www.avl.com/web/guest/registration-cta?articleId=14339549&groupId=10138, type=text, options=[], optionsMap={}}, DownloadFile={attributes={language-id=en_US}, name=DownloadFile, data=, type=document_library, options=[], optionsMap={}}}}}
false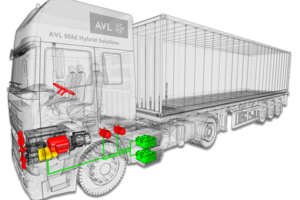 Best fuel efficiency and return on investment
Hybrid Powertrain Solutions for Trucks and Buses
A wide range of electrified powertrain solutions for commercial vehicles
For the manufacturers of commercial vehicles, tackling increasingly stringent global CO2 emissions legislation in an efficient, cost-effective manner is a huge and complex challenge. Choosing the right system architecture and components, satisfying global CO2 standards and meeting fuel reduction and vehicle range targets are a few obstacles OEMs face.

At AVL our hybrid powertrain solutions are multifaceted and holistic. We cover everything from mild hybrid varieties to full hybrid powertrains including low and high voltage concepts (12V, 48V, 60V, 800V). We also develop electronic, continuously variable transmission (e-CVT) systems dedicated hybrid transmission (DHT) systems and our own e-motor designs. In all cases we consider not only the vehicle, its components and systems but also a detailed understanding of the market and the whole industry. This enables in-depth benchmarking, which aids target setting, attribute engineering and system definition.

System and Market Expertise

Our profound component know-how and experience in all elements of commercial vehicle electrification and powertrain design helps you set your goals and then meet them. Furthermore, our model-based system optimization allows you to try different layouts of mild and full-hybrid systems. This then enables you to select the best energy management strategy and develop smart controls early in the process.

We offer component selection and development, powertrain system optimization – including software and control – and calibration until serial production. Testing is conducted at component, system and vehicle level, and our Integrated Open Development Platform (IODP) manages complexity and data and delivers the shortest time-to-market.

Work with us to choose the best commercial powertrain solution for your target market, boundary conditions and application, in the most effective, cost-efficient way. We are the industry's preferred development partner.
---