AVL Tippelmann Neuenstadt
Contact Information
AVL Tippelmann GmbH
Otto-Neumeister-Straße 14
74196 Neuenstadt am Kocher
Germany

Phone: +49 7139 9318 00
Fax: +49 7139 9318 205

info.tippelmann@avl.com

GPS:
N 49° 13' 56,8" / E 9° 20' 48,3"
---
Company
Embedded in the business division Test Systems the AVL Tippelmann GmbH is a worldwide supplier for combustion engine flow test benches. In view of the more and more rigorous restrictions on exhaust emission the AVL Tippelmann flow test benches play an important roll in engine development as well as for automated quality monitoring in the production process.
In the Power Train business division a team of highly qualified engineers participates actively in the development of trendsetting engine and gearing concepts on customer's orders.
History
1976: Foundation of the Engineering Consultant for Swirl Measurement Devices
1977: Introduction of the concept of measuring the moment of momentum embedded in a flow at the SAE Congress in Detroit
1979: Delivery of the first laboratory swirl test bench to an OEM
1981: Construction of the first fully automatic swirl measurement device for 100% monitoring of cylinder heads in series production
1988: Construction of the first semi automatic swirl measurement device for an OEM foundry
1990: Development of the tumble measurement system
1997: Construction of a full automatic swirl measurement device for 100% monitoring of cylinder heads at an OEM machining line (cycle time: 35 sec.)
1999: Start of the development of a technique for the acoustic inspection of cavities in complex shaped castings
2003: Launch of the design engineering business unit
2004: Involvement of the AVL List GmbH, renaming to AVL Tippelmann GmbH
2006: Delivery of a full automatic flexible swirl measurement device for 100% monitoring of cylinder heads at an OEM machining line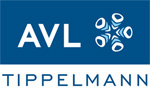 ---
Powertrain Engineering
"Competence to be experienced by the customer proves in daily work rather than in advertising."
The AVL Tippelmann power train engineering unit possesses a high level competence in engine and gearing development. This becomes manifest in on-schedule customer fulfillment with solution, cost and process oriented design engineering results. The staff members are well trained and enable our company to perform engineering services independently according to the targets set in the requirement specifications as well as embedded and in close collaboration with the customer.
Business Activities:
Design Engineering
Conceptual Design
CAD (Pro/ENGINEER® und CATIA®)
Engine Compartment Package
Technical Calculation
Tolerance Investigation
Structural Analysis (Pro/MECHANICA®)
Modal Analysis (Pro/MECHANICA®)
Valve Train Design and Analysis
Prototype Manufacturing
Supply with RP- and Prototype Parts
Flow Measurement
Experimental Design of Air-Ducting Components
Advantage for the Customer:
Comprehensive solutions in engine and gearing design engineering
Competence from first conceptual design to attending of series production
From standard design engineering up to highly sophisticated solutions
---
Test Control Units
Flow Test Bench Development
Modern combustion engines have to satisfy increasing demands for efficiency and exhaust gas quality. Thus it is essential to have exact understanding about the in-cylinder air motion. In the first place this is of vivid interest for engine development, which is therefore an important field of application for AVL Tippelmann flow test benches. The second field of application is quality assurance, where automated flow test benches are installed in the production lines to proof the flow quality compliance.
The AVL Tippelmann measuring method based on the determination of the moment of momentum using an flow straightener suits very well for the quantification of flow characteristics(mass flow, swirl and tumble) and became the standard measuring method in the European Automotive Industry since its introduction in 1977.
The results gained with this method are especially reliable because the momentum is a conservative quantity and has a significant influence on the complex fuel mixture preparation process during the intake stroke. The proper correlation between this physical value and the quality of combustion explains the general advantage of the AVL Tippelmann measuring method compared to other methods.

Flow Test Benches for Engine Development
The design of our development flow test benches is orientated on the special demands of industrial application. It focuses on high accuracy and reliability of the measuring device and safe long term repeatability.
The technically mature handling, the automated valve opener, the computer controlled measurement procedure and the short measurement duration enable to accomplish a complete flow test at a four cylinder head in about 20 minutes including assembly and disassembly.
To prepare the test bench for different cylinder diameters the borehole adapter must be replaced (reconstruction time: 1 minute).
Our product range offers the flow test bench FTB 450 for passenger cars engines and FTB 2000 CE for commercial vehicles.
These standard configurations can be extended according to application specific customer requests.

Flow Test Installations for Quality Monitoring in Serial Production
Flow Test Benches for semi automated random tests and fully automated 100% quality monitoringin serial production are developed for the specific purpose and integrated in the customers production line.
These automated flow test benches are used for tests at machined or unmachined parts. Production line integrated flow test installations achieve cycle times of 30 seconds.
Of course all our flow test facilities are CE certified.

Advantages:
Measuring method with evident physical base
Direct recording of the relevant flow values (moment of momentum)
Fast measuring procedure
Outstandingly reliable measuring system, absolutely friction- and wearfree
Maintenance-free (except cleaning in case of soiling)
One measuring device covers a diameter range from 70mm to 100mm (adjusted using different borehole adapters)
Simple calibration
Suitable for research and development as well as for quality assurance in serial production
Patented sensor for simultaneous measurement of the moment of momentum for all three spatial coordinate axis
More than 25 years of experience in development and construction of turn key flow test facilities (more than 80 installations)
Permanent further development of the measurement method and process
Flow Test Related Services
Training
Measurement on customers order
Special measurement
Basic research and development
Development of measuring methods and strategies
Acoustic Cavity Check System (ACCS)
In the development of modern combustion engines increasingly high power density is required and achieved. This implicates increasing requirements for the cooling especially at the cylinder head. To meet these demands, the shape of water-space cores becomes more and more sophisticated.
Traditional test methods are overstrained with quality monitoring on cast parts with complex shaped cavities in view of cycle time and costs.
The ACCS follows a new approach. This patented test method is based on the evaluation of acoustic effects. The tested cavity is exposed to a noise on one passage. On one or more other passages the signal is recorded.
The response signal is now compared to the original signal. The distortions depend on the shape of the cavity and can be analyzed by means of amplitude and phase spectra respectively transmission function. Those data are characteristic for each transmission path and can be compared for different parts. Significant irregularities of the cavity shape like a stall in cooling ducts that could be caused by core damage during the foundering process will lead to noticeable variations of the transmission behavior.
Likelihood for all transmission paths in the examined part to be ok, shown in the upper diagrams; left: accurate part; right: defective part >> discrimination of defective parts
The fast execution of measurement ant the evaluation make this method suitable for 100% quality monitoring.
---
Hotline AVL Germany & Benelux
---