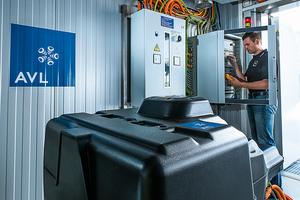 AVL Battery Test Systems
Evaluating electrochemical energy storage
Supplied as either a free-standing test rig or as a containerized solution, the battery test system supports the evaluation and life-time investigation of electrochemical energy storage systems used in hybrid and electric vehicles.
---
The Challenge
A battery test rig needs to perform standard and customized testing of cells, modules and battery packs.

Develop batteries for electrochemical energy storage
How can battery development time and costs be reduced?
Which safety concepts have been implemented?

Test rig applications
Does the test rig run standard and customized tests?
Can it also be used to verify super capacitors, lead-acid, nickel-metal hydride and lithium-ion batteries?
---
The AVL Solution
AVL Battery Test Systems support a wide range of applications – from basic characterizations according to standard testing procedures (ISO/IEC, SAE) to sophisticated customer-specific evaluations utilizing the AVL Virtual Proving Ground Technology.. It supports the examination of cells, modules und packs and is able to characterize various energy storage systems for different applications, e.g. scooter, passenger car, light and heavy duty.
---
The Added Value
Turnkey AVL Battery Testbed incl. TÜV certified safety concept
R&D and production support through multifunctional layout
Containerized testbed design provides location flexibility
Minimized installation effort and operating costs due to intelligent layout
Worldwide sales and services
Virtual proving ground technology with AVL InMotion 4™
---
References
AVL has won a public tender in France in 2017, consisting of the turnkey construction of a building extension including the associated media supplies, the delivery of 6 battery pack testbeds with climatic chambers, plus a 4-dyno powertrain test bed (for ICE, hybrid or pure electric applications) as well as an e-storage BE for the existing turbo test facility at CRITT M2A. CRITT M2A is an independent French research institute located in BRUAY LA BUISSIERE in the north of France (1 hour from Calais) on a 9000 m2 site. The first sod was turned in June 2018. AVL will deliver the turnkey building and the test equipment in three phases in 2018 and 2019.
---
Details
The system consists of:

AVL E-STORAGE BTTM
The AVL E-STORAGE BTTM is a battery tester used for evaluating all kinds of energy storage systems in R&D and production environments. It basically consists of the intuitive, flexible AVL LYNX 2TM automation system and the accurate, dynamic cycler hardware. Configuring testing tasks without programming knowledge is a central element of the operating philosophy. For extended data logging abilities, AVL I/O interfaces are supported.

Coolant Conditioning Systems
A coolant conditioning system with temperature and flow control mode is available to condition the coolant of an e-motor, power electronics or a battery. The electrical heating unit, which is integrated in the coolant-conditioning device, enables a rapid preheating of the coolant. All devices are prepared to be fully integrated in the testbed automation system.

AVL Safety Concept
The TÜV certified safety concept ensures safe operating conditions. Reliable safety systems are implemented on the testbed based upon the results of a detailed hazard analysis.

Virtual proving ground approach based upon AVL InMotion 4TM

By integrating AVL's Virtual Proving Ground Technology based on AVL InMotion 4TM, the battery is integrated into a virtual vehicle environment.
---
Technical Data
AVL E-STORAGE BTTM
Specification
Power rating: 160, 250 kW
DC output voltage: 8–800 V
DC output current: -600…+600 A
Current rise time (10 %...+90 %): <0,4 ms (at nominal conditions of 400 VDC. Not valid in parallel operation.)
Measurement accuracy
Voltage: ±0,1 % FS (Full Scale), ±0,01 % FS optional
Current: ±0,1 % FS, ±0,01 % FS optional
48 V 20 kW or 32 kW System for low voltage applications
Sinusoidal power feedback into the main electrical grid
Power and sense cables
Intuitive graphical user interface
PC (incl. keyboard, mouse), TFT-screen
Interface to battery management system/battery control unit
Interface to I/O system Interface to conditioning unit
Interface to vehicle simulation platform
Integrated in TÜV certified AVL Safety Concept
Conditioning units
Coolant power:
Typical heat compensation: 10 kW coolant power
Climatic chamber:
Typical heating/cooling rate: 1 to 5 Kmin-1
Standardized and customer specific design
Typical temperature range: -50 to 120 °C

AVL Safety Concept
TÜV certified
Scalable safety subsystems
Overall safety system due to comprehensive hazard analysis including SIL classification
---