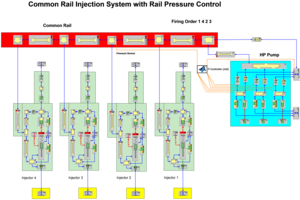 INJECTION SYSTEM SIMULATION
AVL BOOST™ Hydsim
BOOST™ Hydsim is a software tool for the dynamic analysis of non-stationary hydraulic and hydro-mechanical systems. It is based on the theory of one-dimensional fluid flow and vibration of multi-body systems. The main application area of BOOST™ Hydsim is the simulation of fuel injection.
---
AVL Approach
Historically, BOOST™ Hydsim has been developed for the simulation of diesel injection systems. Today, BOOST™ Hydsim is well suited for the modeling of gasoline, heavy oil, gas, alternative fuel injection etc. All types of common rail and other (e.g. unit, in-line pump) injection systems are covered. New applications such as hydraulic transmissions, valve trains and actuators have also been considered.
---
Benefits at a Glance
Flexible modeling technique, adapts to many applications.
Different solver types (fixed-step and variable-step).
Especially suitable for non-stationary high pressure systems.
Specific elements for diverse injection systems.
Integrated 1D optimization of system parameters.
Interface to AVL FIRE

™

and BOOST

™

Cycle Simulation.
Interface to Matlab®/Simulink® (API and DLL).
Fluid and solid property database.
Animation of nozzle flow and spray.
Reliability proven by continuous verification with measured data.
---
Applications
Fuel injection systems for diesel engines: common rail, in-line & unit pump and injectors.
Gasoline engine injection systems: direct & intake-port injection.
Alternative fuel injection systems.
Electro-hydraulic valve trains.
Servo-hydraulic systems, actuators.
Truck engine brake systems.
---
Capabilities and Features
Fluid mechanic simulation
Multi-body dynamic simulation
Hydraulic, mechanical and control elements are provided
Interface to Matlab®/Simulink®
Predefined set of results for each element
2D post-processor integrated into the AVL Workspace
Interface to AVL FIRE

™

Interface to BOOST

™

Cycle Simulation
---