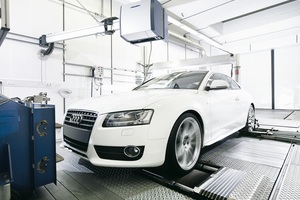 Calibration of Passenger Cars
Vehicle calibration essentially consists of determining the attributes of a car for fulfilling legislative standards as well as refining the car´s character to meet all the driver´s expectations for best driveability and comfort.
---
The scope of services covers the calibration of complete powertrain and sub-systems for:
Combustion engine (diesel, gasoline, flex fuel, CNG, LPG, etc.)
Transmission (AT, DCT, CVT, etc.)
Hybrid systems (micro/mild/full)
The significant tasks for passenger car calibration are:
Base calibration (on engine testbed)

Driveability

Emission

OBD
Depending on the vehicle category and propulsion type, the calibration process follows very dedicated routines tailored to the individual requirements.
AVL Approach
AVL offers a complete range of services for SOP series calibration of passenger cars, worldwide for all markets. This includes all kinds of passenger cars and light-duty vehicles, operated with all kinds of standard fuels (diesel, gasoline, alcohol, LPG and CNG). Within AVL´s calibration services the latest AVL Smart Calibration™ methodology, advanced processes and optimization tools (CAMEO, CRETA, etc.) are applied. Test trips for all climatic boundaries (altitude, temperature) ensure required calibration stability and even real world operation effects (e.g. dealing with local extreme fuel properties) are considered. AVL provides support for fleet testing, homologation and even beyond SOP.
Besides all of these standard tasks, AVL offers a wide variety of different specific calibration disciplines, including:
Particulate number reduction according to European EU6
Solutions for highly stringent emission standards (e.g. SULEV)
Adaptations of forthcoming test cycles and procedures (e.g. WLTP, RDE)
Prototype demonstrator calibration
Derivate vehicle calibration
Others
---