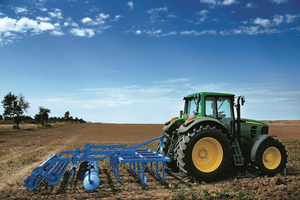 Tractor Calibration
Verifying the functionality and the durability when developing a new product is essential to fulfill the needs and expectations of customers. AVL provides all the calibration methods and tools that are needed to perfectly tune tractors and get the entire powertrain management validated and calibrated in a holistic analysis and evaluation process.
---
AVL Approach
If you want to perfectly tune a vehicle and get the powertrain management calibrated, AVL offers all the tools you need. We calibrate all powertrain functions and support you by taking on your ideas and processing them to the level of serial production. AVL offers a perfect combination of services in order to make your work easier.
Shift quality development and calibration of power-shift and power-shuttle
Shift scheduling development and calibration
Interface and diagnosis development and calibration
Engine/transmission torque interface optimization
Drivability benchmarks
Calibration methodology training
---
Customer Benefits
The AVL group covers the whole spectrum of software development and calibration with 60 years of know-how purposed expressly for your verification and validation projects by using different calibration methods and tools.
The expertise to calibrate all elements, such as the internal combustion engine, transmission and control units as well as the electric motor and the battery in electrified powertrains
Holistic analysis and evaluation of the entire powertrain
Perfect quality of calibration provided by the cooperation of software tools, methodology development and processes as well as experience through mass calibration projects
Quick and optimal matched calibration project execution since all calibration skills are focused in one company
Calibration tools and methodology e.g. objective assessment of shift and shift
Calibration data management
Absolute confidentiality
---
References
Complete tractor development
Powertrain developments for tractors, trucks, construction equipment and industrial purpose
Numerous engine development projects for tier/ stage 3 and 4
Transmission projects from synchronized, CVT, power shift/shuttle, AMT to dual clutch systems
Development of control systems for engines, transmissions, integrated drivetrains and vehicle controls
---