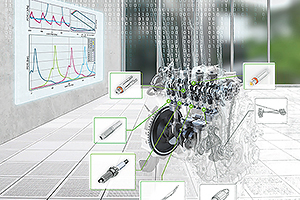 Best-in-class engine development
Pressure Sensors for Combustion Analysis
Outstanding products for development tasks throughout the engine
Looking inside the engine to understand pressure and combustion events offers OEMs the opportunity to refine the ICE powertrain like never before. At AVL our unique pressure sensors support the development of engines in order to deliver improved performance and efficient operation. This is vital in the pursuit of reduced emissions while meeting end-user demands.

A Range of Tools for a Range of Applications

Our pressure sensor portfolio for combustion analysis consists of a large number of pressure sensors for various measurement tasks. You can use them for researching, developing and monitoring all types of internal combustion engines.

Our sensors follow the highest quality standards for any piezoelectric sensors, offering supreme measurement accuracy. A large spectrum of accessories completes the sensor portfolio. Based on the unique gallium orthophosphate crystals grown by the experts at our Piezocryst Advanced Sensorics labs, our pressure sensors are suitable for a wide range of applications. From racing to commercial vehicles and passenger car engines, these pressure sensors are best-in-class products built by a single supplier.
Engine Monitoring and Combustion Analysis

Our pressure sensors can be mounted in almost every possible mounting situation that is subject to extremes of temperature and pressure. Whether it's cylinder pressure, intake and exhaust pressure or fuel pressure measurements that you need to conduct your combustion analysis, our sensors can help.

Robust, accurate and stable, our sensors come in a range of sizes for different applications. A complete range of accessories is available for maintenance, mounting and machining, in order to fully exploit their potential.
---