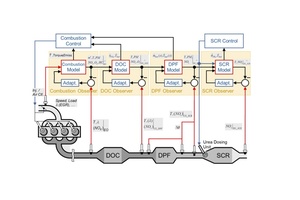 Combustion Controls
The continuously increasing engineering requirements regarding fuel consumption, emissions or advanced diagnosis are nowadays the main drivers for most powertrain development activities. Optimized engine control is now a key factor in being able to meet these challenges. Our engine control solutions help you today, for tomorrow's challenges!
---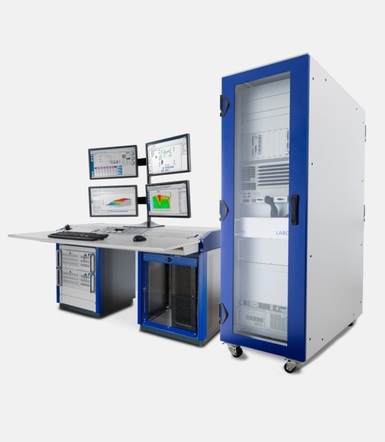 AVL Approach
AVL's extensive knowledge allows it to use a 'model based approach' during the engineering development. This allows many more engineering activities to be moved up-front in the project delivery process. This proven approach can be taken by AVL because of its extensive experience in modeling of total powertrain and driveline systems. Through using virtual modeling both increased control development and validation can be achieved earlier in the project cycle, even before the first engine prototypes are available for testing. This front loading approach to powertrain controls development allows for earlier maturity, higher quality and the possibility to reduce both project timescales and cost.

In powertrain control algorithm development, the AVL model based approach may incorporate a number of software tools (i.e. AVL CRUISE M or MoBEO) from the very beginning of the control algorithm development both in MiL and HiL environments. Once the engine control unit (ECU) hardware is available, the developers can move directly to a HiL environment. Where both software and hardware functionality can be tested in a wide variety of modeled environments and operating conditions. AVL uses the AVL XIL.STATIONTM a more advanced development of the classical HiL systems. An AVL XIL.STATIONTM includes an advanced tools and interface package that allows both calibration and engine test bench tools to be incorporated. In this way an XIL.STATIONTM can fully utilize all the existing AVL tool chain such as PUMA OPEN, AVL CAMEOTM and AVL CONCERTO allowing for a more seamless and effective approach to test automation.
This virtual development environment together with certified development processes and an experienced development team assure efficient and high quality results fulfilling at the same time all safety, OBD and other legal requirements.
---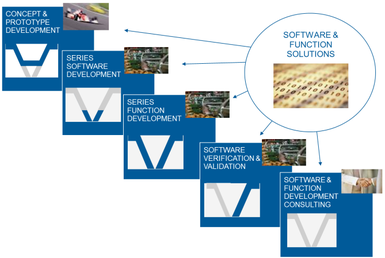 AVL Solution
AVL can offer customized combustion control development services along the entire V-cycle as well as mature off-the-shelf solutions. Engineering services range from total product to specific requirement definition, rapid prototyping, function development or coding and testing.

Dependent on customer requirements, projects can be individually scoped from single to multi-function development along the development chain to complete standalone turn-key solutions. Our customers benefit not only from our extensive software and control expertise used in both prototype and series production but also from AVL's many years of diverse experience in combustion and powertrain development.
AVL can provide combustion control solutions for all kinds of gasoline, diesel, gas or multi-fuel engines. Specific solutions are available for a variety of applications from 2 wheel vehicles, passenger cars, light and heavy duty on-road and off-road vehicles to large engines.
---
Benefits at a Glance
Independent solutions for prototype and production powertrain controls
Fully developed and proven algorithms including AVL's extensive software database and know-how
Reduced development costs and time to market over competitor systems
Consistent development environment from lab to testbed or vehicle
Robust controls design and cost effectiveness – Model-in-the-Loop, Software-in-the-Loop and Hardware-in-the-Loop simulation for an early verification and validation
Reduced calibration effort
Allows for a higher quality environment with the use of integrated quality control gates in the development process
Overall process and supplier management controls

---