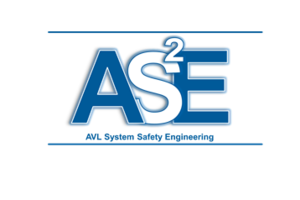 Functional Safety Engineering
"The prevention of accidents must not only be considered as a regulation by law, but as a matter of human commitment and economic reason." - Werner von Siemens
---
The challenge out of the moral commitment above, for the sake of human health and life is the design, production and operation of products, that do not contain unacceptable risks. Nowadays, one part of this challenge comes more and more important – the Functional Safety, considering the safe behavior of electronic and electric components and systems.

AVL is able to offer engineering services, training and coaching related to functional safety in many areas. By application of the requirements of the general safety standard IEC61508 and – only for example – ISO26262 for automotive or ISO25119 for agriculture equipment, AVL will enable yourself to launch your sophisticated products according to the agreed rules of the state-of-the-art. From the holistic approach for the overall safety development lifecycle diving deep into the implementation of specific safety requirements during detailed development tasks, we have the related expert skills and many years of experiences in the AVL network of competence centers in Functional Safety.
AVL Approach
According to the mentioned safety standards, our Team "Functional Safety Methods" (FSM) implements the required safety activities in the development process. We also support our customers through coaching and training: our Functional Safety Managers are supporting the process development as well as supervising the implementation of the safety requirements. In order to show the safety case at the end the safety development lifecycle all defined activities according to the safety standards are performed beginning with the risk analysis up to the safety evidence through the moderation of FMEA, FTA and FMEDA. The organizational independence of AVL allows us to get an unbiased perspective on the optimal solution of your topic.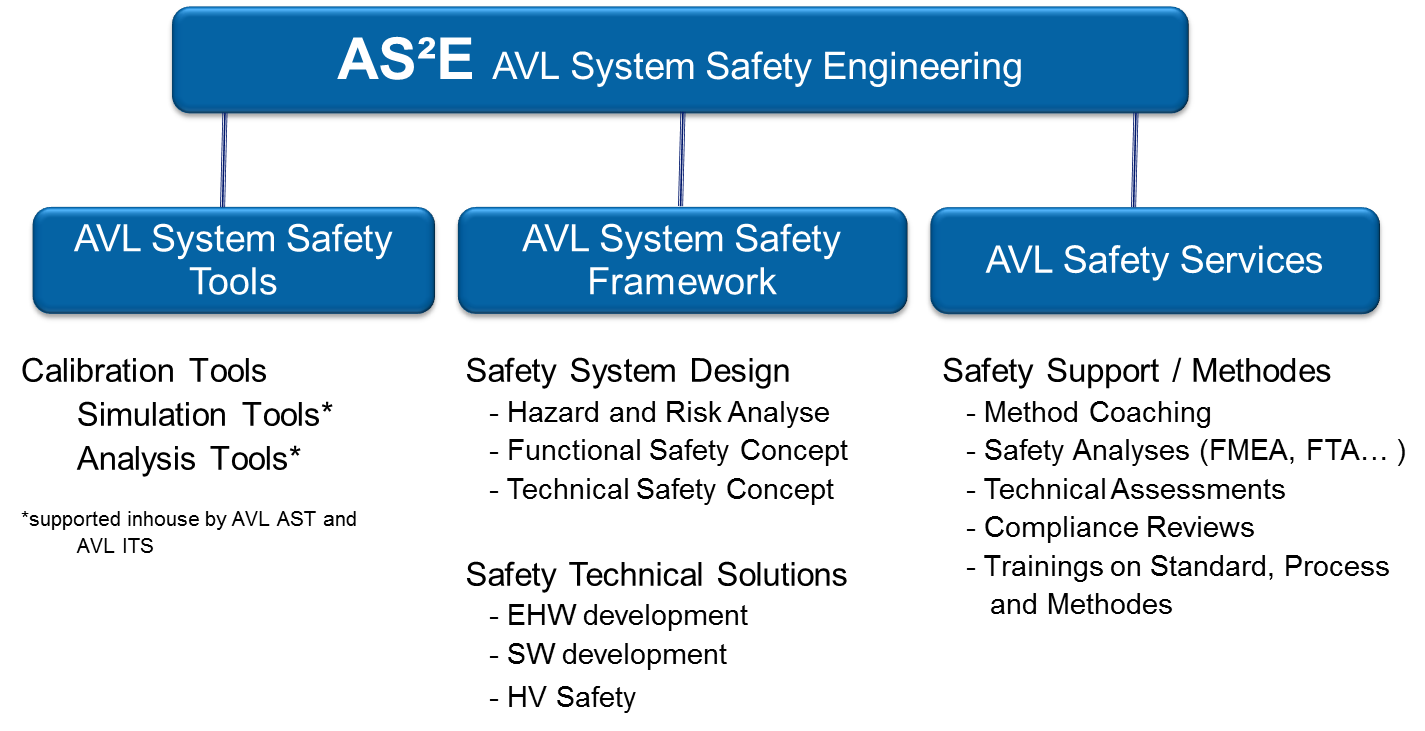 ---
AVL Solution
AVL safety architectures and functional safety designs in hardware and software ensure that the requested key metrics (e.g. diagnostic coverage) out of the safety standards are guaranteed. Depending on the safety integrity level the suitable technical concepts, such as asymmetric (e.g. EGAS 3-level-concept) or symmetric (multicore) redundancy concepts are applied by the team "Technical Safety Development" (TSD). In order to develop safe functions we consider necessary safety-related technical guidelines for software and hardware on the one hand and, on the other hand, technical safety mechanisms that are implemented in the electronic hardware and software. Last, but not least – the safety verification and validation of the technical solutions will be supported or even completely proceeded on the different levels of Model-, Software-, Hardware-in-the-Loop and vehicle tests on AVL or customer site.
---
Benefits at a Glance
Independent engineering services, training and coaching related to functional safety by one hand
Seamless technical implementation of safety mechanisms in hardware and software
Many years of experiences in the AVL network of Competence Centers for Functional Safety

---
References
Development of process- and processor monitoring SW (EGAS Level 2 and 3) for powertrain controllers (CPC), the 4 variant applications are electrical cars, hybrid and fuel cell related up to ASIL D
Safety system development and support for safety – related process implementation in different e-mobility projects of this customer
Safety system analysis and development of entire Safety Concept (HW, all SW levels) for a battery system controller (BMS), pilot application is an hybrid bus
Functional Safety Management and Development of process- and processor monitoring SW (Level 2 and 3) for powertrain controller (HCU) pilot application is an electrical car
Coaching Functional Safety Management for battery control component
Moderation of system FMEA for transmission system incl. controls
Entire control systems development for inverter with ASIL D requirements, application is a torque vectoring system in passenger car

---