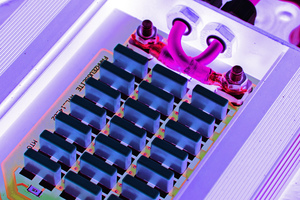 Power Electronics
We achieve pioneering tasks for future-oriented technologies in the area of the semi-conductor - in compliance with AVL principles. Our range of products contains traction converters for vehicles, on-board converters and loading systems. The need for a compact installation space for the components is also taken into consideration. At the industrialization stage, we regulate the development costs with modern simulation processes to prevent an unnecessary financial burden.
---
---
AVL Approach
Through cooperation with worldwide leading technology partners for semi-conductors and microprocessors we find highly developed solutions for various challenges:
Traction converter in the vehicle: in terms of the individual development of converters for automobiles and utility vehicles, within the power range from 5 to 150kW, we orientate to customer preferences
On-board converter (DC/DC-converter, voltage states of 12 V / 48 V / 800 V)
Loading systems (grid-to-car)
---
AVL Solution
Regardless of the application, electrical energy has to be transduced and regulated as effectively as possible. For this function, we strive for innovative solutions to guarantee a high effectiveness and to improve efficiency.
---
References
AVL Powertrain Controls for gasoline, diesel, hybrid and electrical powertrains are applied in various production and prototyping applications in various branches:
Passenger cars, trucks, construction machines, agricultural machines, two-wheelers.
---