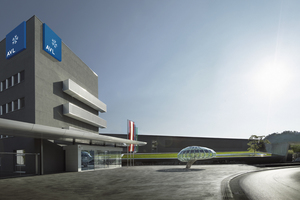 Review
27th International AVL Conference "Engine & Environment" 2015
11th - 12th June, 2015
Helmut-List-Halle Graz, Austria
---
---
Topic
ENGINE AND TRANSMISSION BETWEEN THE POLES 12–48–96–400–800 VOLT?
As electrification of the powertrain increases worldwide across vehicle segments, different architectures are proposed and pursued, each having their advantages and disadvantages. A focus on one of these architectures cannot yet be recognized. This is also true for the choice of voltage. There are good arguments in favor of low voltage systems as well as of high voltage systems. During this conference advantages and disadvantages of different architectures and voltages will be discussed and the interaction with engine and transmission will become a focal point.
In this context the following topics will be addressed:
Powertrain architectures for electrification
System optimization – System integration
Hybrid architectures such as parallel, serial or power-split hybrid
Plug-In Hybrid (P-HEV) / Range Extender / E-Vehicle (EV)
Electric all-wheel drive replacing transfer cases and power-take-offs
Impact of pure electric driving on architectures and overall system
Modular powertrain concepts
Voltages
Which potential is provided by enhanced 12 Volt systems?
Can it be proven that 48 Volt systems are the most cost efficient hybrid solutions?
Are 96 Volt systems a special solution for the North American market?
Will 400 Volt systems become standard for full hybrid and P-HEV?
Will sports/performance applications use 800 Volt plus?
Multi-voltage automotive power supply systems
Influence of electrification on combustion engine and transmission
Transmissions dedicated to hybrid propulsion
Electrification as enabler for advanced thermodynamic cycles
Thermal management and reduction of parasitic losses
Requirements and potentials for emission measures and efficiency improvements
Electric accessories and actuators and electric charging
From technical simplification to high performance engine
Influence of the electric drive functions
FOR FURTHER INFORMATION PLEASE CONTACT:
AVL List GmbH,
Hans-List-Platz 1,
A-8020 Graz, Austria
Phone: +43 316 787-927
Fax: +43 316 23 11 23 44 90
event@avl.com
---
Review
This year's trend conference in Graz, which for the first time ever was held in June, was characterized by particularly intensive and interesting discussions among the more than 300 participants from 20 countries. This was not just because of its theme that addressed a very topical issue in the automotive industry, but also because of the exceptionally high standard of the presentations that focused on the continuing trend toward powertrain electrification and the choice of the most suitable power supply architecture for the implementation of electrification solutions.
Electrification is not only driven by the demand to lower CO2 but also by the attempt to optimize performance and driving enjoyment, as these are the only attributes for which customers are prepared to pay extra money. As Nikolai Ardey (BMW) put it in his keynote, in which he traced the development from the conventional powertrain to the plug-in hybrid and the range and speed extender Power eDrive, "the key argument for eDrive is driving enjoyment."
The energy requirements of modern cars have risen immensely over recent years. With more and more electrical loads, present-day on-board power supply systems are reaching the limits of their capacity. So it comes as no surprise that the 48-volt on-board network was the most intensely discussed topic at the conference. Dr. Bernd Mahr (Continental) stated that by 2015 the 48-volt system would have an 11-percent market share worldwide. He even adjusted the figure upward during the panel discussion.
This is primarily attributed to the fact that a 48-volt on-board system allows the implementation of intelligent and cost-effective mild-hybrid solutions. Dr. Michael Winkler (Hyundai) presented a D-segment vehicle, developed in cooperation with AVL, which combines CO2 reduction of 15% with a 25% rise in engine performance by means of load point shifting, advanced start/stop system, electric pressure charging systems and engine speed reduction. Asking himself rhetorically whether 48-volt could bridge the gap between 12 volt and 800 volt, he replied that it clearly could.
Most of the speakers at the conference agreed and Dr. Corrado Nizzola (Daimler) forecast that there would be a fight inside the vehicle for the available 48 volts. Gerald Killmann (Toyota), on the other hand, pointed out that a full hybrid with a high-voltage system needed no further on-board electrical system and described the voltage levels of three Prius generations that gradually evolved from 274 volts to 650 volts. Otmar Bitsche (Porsche) announced 800 volts for series produced high-performance vehicles.
The conference started on a sunny afternoon at the AVL Test Track in Gratkorn, where participants had the opportunity to test-drive all vehicles that would be featuring at the conference. Lively conversations and discussions started at the test track and continued after the presentations during the question times and breaks and throughout the social evening at the "Soap Factory" in Graz and the panel discussion. The friendly and informal atmosphere contributing to the exchange of new ideas, interesting approaches and visionary concepts always has made the international AVL "Engine & Environment" conference a particularly attractive event. This will be no different at next year's conference, taking place from June 9 to June 10, 2016, and focusing on "Powertrains for the Chinese Market, a Challenge for the global Automotive Industry"
Ulrich Walter
Head of Panel Discussion (www.ulrich-walter.de)
---
Speakers
Dr. Nikolai Ardey
BMW AG Munich

Dr. Thierry Baritaud
Ferrari

Otmar Bitsche
Dr. Ing. h.c. F. Porsche AG

Christian Bock
BMW AG Munich

Dr. Olivier Coppin
Valeo


Dr. Stefan Kampmann




Robert Bosch GmbH





Dr. Stefan Kilian

ZF Friedrichshafen AG


Gerald Killmann




Toyota Motor Europe



Dr. Klaus Friedrich Küpper
AVL List GmbH


Dr. Bernd Mahr




Continental AG



Dr. Corrado Nizzola
Daimler AG


Thomas Pfund




LuK GmbH & Co KG



Alain Raposo
Alliance Renault - Nissan

Gary Reid


Jaguar Land Rover



Peter J. Savagian, MS, MbA

General Motors Powertrain


Dr. Michael Stapelbroek
FEV GmbH

Dr.-Ing. Michael Winkler
Hyundai Motor Europe

---
Evening Programs
Wednesday, June 10th, 3.00 – 11.00 p.m.
Welcome Reception at the AVL Test Track in Gratkorn
Join us and our team of experts to see how the latest technology performs and at the same time, test it yourself by taking the test vehicles out for a spin.

Thursday, June 11th, 7.30 p.m.
Social Evening at the "Soap factory"

Erected in 1872 as a "poudrette factory" and revitalized in 2003 as event center, the Soap Factory, situated directly by the river Mur, is the perfect setting for our Social Evening.
We invite you to continue networking in the relaxed atmosphere of the outdoor dining area in the shade of beautiful trees at our special event. Don't worry; the historical timber-framed hall is an excellent weather-proof alternative.

ANOUCHE BLU "Songs of the Decades"


An evening full of diversity. Selected songs of pop music, blues, jazz and chansons as well as own compositions. Pure pleasure …

- Rebecca Anouche (GB/F) - Vocals, Blues-Harp
- Michael Merkusch (A) - Guitar, Bass, Vocals
- Werner Radl (A) – Guitar, Vocals

Born in Paris and raised in London, singer-songwriter with Armenian-German roots Rebecca Anouche lives in Graz for more than 20 years. The repertoire is very wide and ranges from country, blues, jazz and pop to soul and chansons.
"Music is expression of my soul", she says, and it is easy to believe her.

More on: http://www.rebecca.co.at

Organised by AVL Cultural Foundation.


© Rebecca Anouche
Short movie about Graz:
---
Partners' program

Thursday, June 11th
INDULGING CAN BE SO EASY!
Discover the inspiration for yourself and learn from a genuine professional chef tricks, sophistication and how to plan the preparation of dishes the best way at our "Kitchen Party". Sociability, fun and pleasure are of primary importance and make the work enjoyable. After an aperitif the chef presents the menu of the day, then recipes and the finest regional ingredients are discussed. And finally, you can relax while enjoying the meal you have prepared yourself.

Friday, June 12th
A DAY IN EGGENBERG PALACE
The universe is in Graz! It's no joke, but rather a wonderful example of harmonious architectural skill: Eggenberg Palace on the edge of the city center. Set within a beautiful park is the main palace which was laid out as an architectural allegory of the universe. The building represents a precisely calculated cosmos. It was commissioned in 1625 by Prince Hans Ulrich von Eggenberg to embody his wish for a harmonious structure, reacting to the chaos of the 16th century. Eggenberg Palace is inseparably connected with its park, which has changed with the contemporary taste. In the mid-nineteenth century, it was converted into the landscape garden of the present. A special attraction are the majestically stalking peacocks as well as a refashioned space of the park - the Planetengarten. It continues of course the iconography of the palace.
The day will be filled with a walk through the park and planet garden of Eggenberg Palace, a visit to the ornamented rooms and then a refreshment break at the Pavilion in the Park. At the end of the day you can enjoy the many shopping opportunities in the center of town.
---