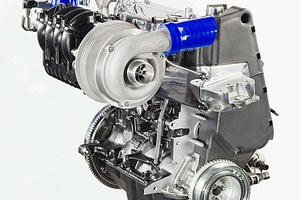 Combustion Development for Gasoline Passenger Cars
The combustion engine is still at the heart of efforts to meet the steadily increasing demands for low fuel consumption together with high power.
---
The layout of combustion systems determines the thermodynamic efficiency as well as setting the base for achieving emission targets. The combustion system development incorporates the mixture formation as well as the combustion process. The typical tasks for combustion development are:
Thermodynamic analysis
Complete new design of ports and combustion chamber
Adaptation and optimization of fuel injection system
Evolutionary improvement of combustion system
Troubleshooting
AVL Approach
In combustion development AVL follows a well-defined and proven project process to ensure the achievement of targets with very high maturity and within the shortest timeframe. The development process is driven through:
Design and Simulation
Hydraulic and flow laboratories
Optical measurement equipment
Advanced testbeds and instrumentation
Use AVL´s leading position in the development of leading gasoline combustion systems to your advantage.
---
Customer Benefits
AVL is a market leader and has many years of experience in combustion development for spark ignited (SI) gasoline engines. AVL is one of the pioneers for gasoline GDI and TGDI combustion development, and can offer comprehensive experience with standard configurations as well as unconventional combustion systems (e.g. HCCI, CAI). Today we combine this key know-how with utilization of all the advanced methodology and development tools to find the overall optimum for the different kinds of future powertrain and applications:
Turbo charged as well as naturally aspirated
MPI and GDI
Standard gasoline and alcohol flex fuels
CNG, LPG and other gaseous fuels
AVL offers all the requested services for combustion development services, delivering the most overall efficient package for the development of new combustion systems for:
Compact engines & two-wheeler
Gasoline passenger cars
Race applications
Our locations around the world include professional project management in combination with high grade facilities.
---
References
Satisfied customers are the best evidence for successful projects. AVL development services have more than 60 years' history. Due to confidentiality reasons the published references show only part of our latest development tasks without naming customers.
The extent of projects for gasoline passenger cars within the last 10 years covers:
183 Engine Dev. Projects*)
48 Concept Dev. Projects*)
135 Series Dev. Projects*)
67 NA Series Dev. Projects*)
68 TC Series Dev. Projects*)

(135 Series, 48 Concept )
(21 TC engines, 27 NA engines)
(67 NA engines, 68 TC engines )
(13 GDI-NA, 54 MPI-NA engines)
(48 GDI TC, 20 MPI-TC engines)
*) excl. variants and derivatives
**) fixed SOP, excl. variants and derivatives
---