{attributes={}, name=downloadList, data=, type=selection_break, options=[], optionsMap={}, mainTitle={attributes={language-id=en_US}, name=mainTitle, data=Discover more, type=text, options=[], optionsMap={}}, sectionList={attributes={}, name=sectionList, data=, type=selection_break, options=[], optionsMap={}, sectionIcon={attributes={language-id=en_US}, name=sectionIcon, data=newsletter, type=list, options=[], optionsMap={newsletter=Newsletter, download=Download, software=Software, white-paper=White Paper, webinar=Webinar}}, sectionName={attributes={language-id=en_US}, name=sectionName, data=Contact us, type=text, options=[], optionsMap={}}, downloadFiles={attributes={}, name=downloadFiles, data=, type=selection_break, options=[], optionsMap={}, LinkTitle={attributes={language-id=en_US}, name=LinkTitle, data=Get in touch with our experts, type=text, options=[], optionsMap={}}, CTALink={attributes={language-id=en_US}, name=CTALink, data=https://www.avl.com/registration-cta?articleId=30100212&groupId=10138, type=text, options=[], optionsMap={}}, DownloadFile={attributes={language-id=en_US}, name=DownloadFile, data=, type=document_library, options=[], optionsMap={}}}}}
false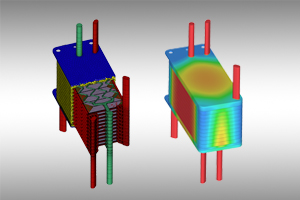 Seeing inside the fuel cell
Fuel Cell Stack Simulation
AVL has the tools to optimize fuel cell stacks for increased lifetime, safety and performance
The continued transformation of the automotive industry toward the electrified powertrain has seen the emergence of a variety of new technologies. For these technologies to achieve market acceptance, at AVL we provide a range of tools, solutions and services to support our customers in their development.

Proton Exchange Membrane (PEM) fuel cells offer huge potential as a zero-emission power source for electrified powertrains. To support your development and optimization of PEM fuel cell stacks we offer a scalable simulation solution based on 3D CFD (Computational Fluid Dynamics). AVL FIRE™ M can help you meet your development goals, particularly when used in conjunction with our system-level modelling and simulation platform AVL CRUISE™ M.

Ensuring Media Supply Uniformity

Maximizing the efficiency of your hydrogen fuel cell stacks requires the optimum supply of hydrogen and oxygen to each cell in the stack. This must be maintained under all relevant operating conditions and during transient load situations.

With the 0D/1D system simulation competence of CRUISE M you can determine the overall minimum and maximum media supply mass flow rates. This helps to ensure proper stack operation, to minimize flow pressure losses and avoid the conditions that might lead to circumstances such as fuel starvation. With FIRE M's detailed multiphysics 3D CFD capabilities you can design and optimize manifold shapes and media distribution plates for gas throughput and flow uniformity.
Stack Cooling Optimization

Ensuring your PEM fuel cell stack operates efficiently and safely under all operating conditions, requires dynamic stack temperature conditioning and the minimization of temperature gradients. This is to ensure uniform temperatures in all cells of the stack at all times.

CRUISE M, with its 0D/1D system-level simulation supports virtual cooling concept layout investigations to increase cooling system efficiency. This includes the sizing of coolant media supply elements, the modelling of pressure drops and pumping loss minimization under stationary and transient operation.

In addition, FIRE M provides detailed insight into the joint gas media, coolant flow and thermal and heat-releasing electrochemical processes. This supports detailed assessment of design options regarding temperature homogeneity at individual cell and stack level, resulting in increased stack lifetime.

With the combined use of these simulation tools, you can reduce the experimental testing of entire stacks required in your development process. This, in turn, leads to reduced development cost and time to market, and increased product quality, lifetime and robustness.
---