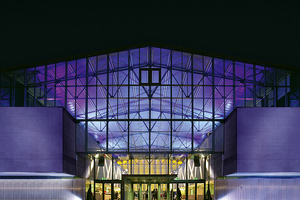 Helmut List Halle
At the heart of Graz's cultural scene, the Helmut List Halle is a shining testament to the power of collaboration between engineers and artists. Born out of an old, disused factory, it is a technological marvel that marries the flexibility of concert acoustics with the strictness of opera halls.

Realized by architect Markus Pernthaler, it has set a new standard for contemporary performance spaces.
---
---
About
Officially opened in 2002, the Helmut List Halle was born out of an intense collaboration between scientists, musicians, conductors and other specialists. And as such, it is a prime example of the successful interaction between art and science.

Whether it's theatre performances, classical music, conferences or an electronic music festival, the unique, multi-function building can change its internal profile to provide the perfect sound environment. This merging of science and art makes the building a key cultural venue in Graz and a world-class venue for any kind of performance.
---