Press Releases 2018
Press Release Filters
Note: Click on the FILTER button to apply your filter Settings.
Year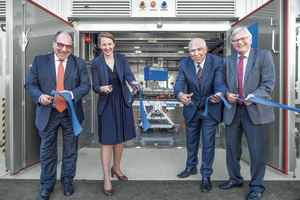 A milestone in AVL's electrification expertise
Press Release: AVL opened one of Europe's most advanced battery labs in Graz
By adding further trendsetting battery testbeds, high-tech company AVL List has doubled its capacities and has opened one of the most advanced battery testing labs in Europe at its headquarters in Graz. Established within a reconstruction period of eleven months, the AVL Battery Lab defines totally new standards. AVL CEO Helmut List: "The opening of the AVL Battery Lab is a milestone in the further electrification of the powertrain at AVL. Now we are capable of meeting the customers' constantly increasing requirements with high-precision measurements within shorter testing times."

Covering an area of 700 m², AVL's expanded Battery Lab has room for cutting-edge testbeds capable of running electrical and thermal battery tests – combinable in a single test run – up to currently 750kW or 1200V. Particularly the composition of the sophisticated testbed specifications at this superior level is unparalleled in Europe. Remarkable are the high doors and the impressive sizes of the thermal chambers that allow the testing of large batteries, such as those used in electric buses or trucks.


Growing complexity in battery development
The steadily rising demands on producibility are making battery development more and more complex. AVL develops both full batteries and partial aspects, for example modules based on lithium solid-state cells instead of conventional lithium-ion cells. There is a growing tendency towards vehicle underfloor battery integration, which requires even closer collaboration between AVL and its customers or their body teams.

AVL has been engaged in sustainable electric mobility for more than 20 years: the very first hybrid vehicles developed by AVL were produced in the nineties. Focusing on high-capacity lithium batteries for the last ten years, AVL started to implement initial pre-developments for the currently widely discussed 800V technology very early on. In 2012 AVL developed and implemented "AVL CoupE" – the first 800V electric car (BEV). For the validation of such batteries, the company erected four battery testbeds with 800V – 1000V capabilities from 2010 to 2012.

AVL is the world's largest independent company for the development, simulation and testing technology of powertrains (hybrid, combustion engines, transmission, electric drive, batteries and software) for passenger cars, trucks and large engines. AVL has more than 9,500 employees all over the world. In 2017, sales revenues reached EUR 1.55 billion.

Contact
Michael Ksela, Company spokesman AVL
Phone +43 664 132 81 78
michael.ksela@scoopandspoon.com
---