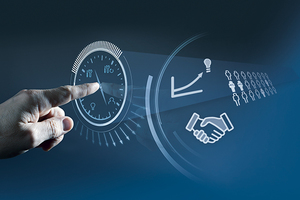 Zuverlässige Servicepartnerschaften.
AVL Servicelösungen
Individuelle Servicepakete für langfristige Werterhaltung
AVL Servicelösungen sind maßgeschneiderte Servicepakete, die sich aus Vereinbarungen bezüglich Hardware und Software, Application Services und Integrated Resident Services (kundenspezifische Partnerschaftsmodelle) zusammensetzen.
---
The Challenge
Hardware- und Softwarewartung und -upgrades
In welcher Form stellt AVL Support, Wartung und Subscription für Software bereit?
Bietet AVL all-inclusive Servicevereinbarungen für Hardware und Software?
Anwendungsspezifischer Support
Kann AVL den Kunden Experten zur Seite stellen, die vor Ort mit den Mitarbeitern der Kunden zusammenarbeiten (z.B. bei der Kalibrierung von Diesel-, Benzin- oder Hybridmotoren, bei modellbasierter Datennachverarbeitung, …)?
Auslagerung des gesamten Prüffeldbetriebs
Kann AVL die Wartung, den Betrieb bis hin zum Management des gesamten Prüffelds des Kunden übernehmen?
---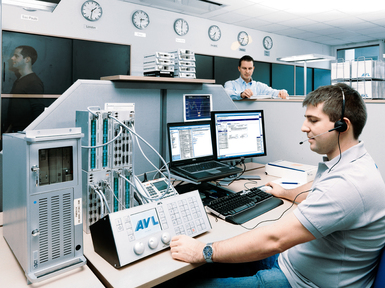 The AVL Solution
Unsere umfassenden Servicelösungen sind maßgeschneiderte Serviceprogramme, entwickelt für individuelle Kundenbedürfnisse in spezifischen Testumgebungen. Sie kombinieren relevante Servicemodule mit zusätzlicher Expertise, Know-how und Methodik. Ziel ist es, die Gesamtproduktivität von Prüffeldern jenseits individueller Systemoptimierungen zu verbessern.
Die angebotenen Servicelösungen sind:
AVL CARETM
APPLICATION SERVICES
INTEGRATED RESIDENT SERVICES
---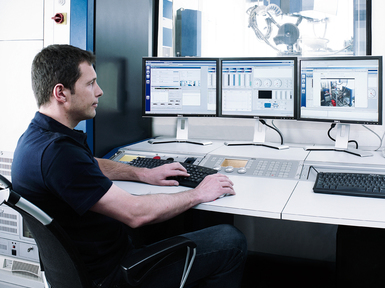 The Added Value
Maßgeschneiderte Servicelösungen gewährleisten:
Finanzielle Flexibilität durch Umschichtung von Investitionen in operative Budgets (CAPEX zu OPEX)
Optimierte Inhouse-Struktur durch Kooperation mit Outsourcing-Partnern (Kunde kann sich auf seine Kernkompetenz konzentrieren)
Vorhersagbarkeit von Kosten (Servicepauschale)
Ausgleich von temporären Kapazitätsengpässen bzw. Knowhow-Lücken
Gesamtverbesserung hinsichtlich Produktivität, Prüfqualität und Nutzungsgrad-KPIs
---
AVL CARE™
Die Servicelösung AVL CARETM
In einem AVL CARE™ Vertrag werden die Inhalte und der Service-Level im Hinblick auf kundenspezifische Zielsetzungen festgelegt. Der Vertrag ist gemäß der vereinbarten Ziele und KPIs (z.B. technische Verfügbarkeit, jährliche Service-Fixkosten) ausgestaltet. Die Services sind einfach abrufbar und ihre Leistung wird anhand von Kennzahlen überwacht. Dadurch wird die Zielerreichung messbar und die Kosten werden plan- und optimierbar.
AVL betreibt weltweit 7 CARElines, die einen dezidierten 24/7-Premiumsupport sowie Services für mehr als 1.400 Prüfstände bieten.
Einführung in AVL CARETM
---
Application Services
AVL APPLICATION SERVICES
Um die derzeitigen und zukünftigen Kalibrierzielvorgaben für Antriebsstrang- und Fahrzeugtests zu erfüllen, setzt AVL auf den Einsatz neuester Methoden und Werkzeuge. Dabei unterstützt AVL Application Services die Kundenziele nicht nur durch verbesserte Datenqualität, sondern auch mittels Optimierung der Datenerhebungsrate, effizientem Einsatz von Methoden oder Gesamtverbesserung auf Systemebene.
Mehr als 100 Anwendungsexperten für Motor-, Antriebsstrang- und Fahrzeugtests helfen dabei, die Prüfzeiten um >70 % zu reduzieren. Durch ein individuelles Servicekonzept kann ein Nutzungsgrad von >80 % sowie eine technische Verfügbarkeit >97 % erreicht werden.
Einführung in AVL Application Services
FALLSTUDIEN:

AVL CS Application Services Fallstudie 1:
AVL CS Application Services Fallstudie 2:
AVL CS Application Services Fallstudie 3:

AVL CS Application Services Fallstudie 4:
AVL CS Application Services Fallstudie 5:

AVL CS Application Services Fallstudie 6:

AVL CS Application Services Fallstudie 7:

AVL CS Application Services Fallstudie 8:
---
Integrated Resident Services
AVL INTEGRATED RESIDENT SERVICES
Dieser Service ist ein langfristiges Partnerschaftsmodell. Im Rahmen von Resident Services kann AVL Wartungsmaßnahmen (präventive Wartung, Planung und Durchführung, Anlagenwartung), Supportmaßnahmen (Bedienerunterstützung, Produkt- und Newcomerschulungen, Application Support) oder Testfeldbetrieb (Prüfstandsbetrieb, Management von Ersatzteillagern vor Ort, System-/Datenbankverwaltung) durchführen.
Über 270 Ingenieure führen Wartung, Support und Betrieb von mehr als 1.500 Prüfständen direkt am Kundenstandort aus. AVL betreibt zudem 240 eigene Prüfstände an 17 verschiedenen Standorten.
Einführung in AVL Integrated Resident Services
---