---
The Challenge
Battery development on a system level
Can I determine the most suitable battery size for given vehicle energy and performance targets?

How can I optimize the battery cooling system including relevant components?

Is it possible to re-use my models for energy and thermal management control function development and later on HiL and test systems?

Can I visualize the power flow and energy distribution to instantly see which operating states are imposed by the controller during the simulation?
Battery development on a component level
How can I find the required cell type and shape to optimize the power concentration and thermal characteristics?

Can I optimize the battery packaging in order to improve the cooling efficiency, minimize pressure loss, manage the heat propagation while keeping the given driving range and performance targets?

How can I identify the critical operating conditions within the battery?

Can I analyze the consequences of puncturing the battery cell/pack to gain information about thermal runaway?
---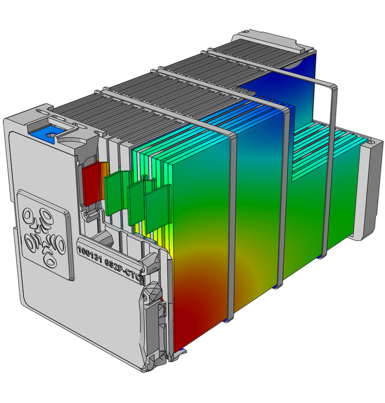 The AVL Solution
The solution portfolio covers simulation tasks ranging from battery pack packaging and cooling concept definition to battery pack right-sizing in order to fulfill the given driving range targets.
The integrated empirical and physical battery cell/stack models cover all relevant cell types and chemistries, furthermore, they are applicable to component and system development from concept phase via integration to HiL and testing systems.
On the system level, AVL CRUISE™ focuses on energy and performance related development tasks from the concept phases on. The solution is also tailored for thermal behavior and cooling systems development topics. The application scope continues with model re-use on HiL and testing systems.
AVL FIRE™ enables the prediction of battery performance and thermal behavior on cell, module and pack level during transient charging and discharging for different cell types and cell chemistries. Adopting sophisticated thermal-electric and electrochemical models, critical conditions and locations in the battery module and pack can be identified.
---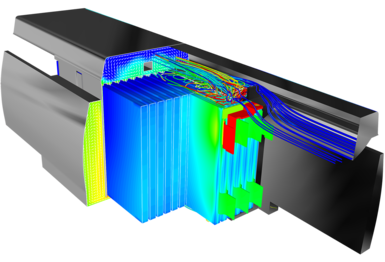 The Added Value
Fast equivalent circuit model enabling realistic battery simulation in real-time condition in testing environment

Simulation analysis and battery control development on a single cell level for e.g. cell balancing

Consistent electro-chemical and electro-thermal battery models for covering applications ranging from cell design

to battery pack cooling

Range of models covering different battery cell chemistries, e.g. Li-Ion, Mg-Ion, Li-Air, etc.

Battery Parameterization Wizard for fast and easy model parameterization based on measurement data
---