Electrical Technician m/f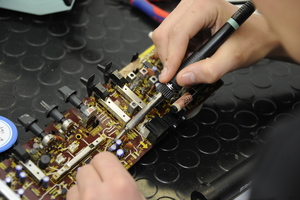 For those who see their main talent in engineering, mathematics and logics
Electrical Technician m/f
"A great deal of responsibility, great opportunity!" - Ines, electrical technician, 1st year of apprenticeship
---
What's it all about?
You will create complex measurement and testing systems by means of simple electro-technical components.
As a skilled employee you will support the engineers – who pursue the goal of the 100% emission-free engine unit – in engine and vehicle development. You will be in charge of servicing and maintaining electrical components of test beds and in measurement instrument production.
---
---
What you will learn
Fundamentals and basic laws of electrics (e.g. Ohm's law)
Electrical connection and handling techniques (soldering, wire-wrap, etc.)
You will become acquainted with specific machines and their start-up, control and maintenance
Error analysis and remedy of errors in electric systems using specific measurement tools and electrical engineering tools (e.g. multimeter, oscilloscope)
Safety regulations, protective measures, environmental and quality standards
---
How long is the apprenticeship?
---