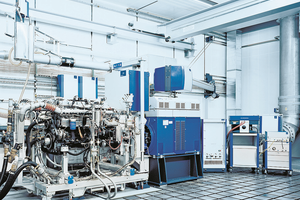 Heavy-Duty Emission Certification
AVL offers a complete range of solutions for the verification of on and off-road heavy-duty engines on their compliance to contemporary and future worldwide exhaust emission standards.
---
AVL Approach
The AVL Heavy-Duty Emission Certification Test System comprises all the exhaust emission measuring devices, the engine testbed modules, as well as the specifically needed automation function to fully support statutory testing according to European, American and Japanese emission regulations.
---
Benefits at a Glance
Compliance to challenging emission regulations like US EPA CFR 40 part 1065 and Euro VI
In-house approved test system by AVL powertrain engineering
Proven emission test automation in a large number of installations
Common GUI from emission device up to testbed integration level
Installations at certification authorities
---
Technical Data
Supported engine types and sizes:
Compressed Ignition (CI) and Spark Ignition (SI) engines
Power range: ≤ 100KW up to ≥ 1MW
Fuel type and properties: Diesel and gasoline fuels with up to 20 % alcohol (M20 or E20) and 6 % biodiesel; CNG, LPG
Supported certification emission regulations:
On-Road vehicle applications:

Euro IV & V (Dir. 88/77/EC with amendments 2005/55/EC resp. 2005/78/EC; Directive 2006/51/EC)
Euro VI (Regulation EC No. 595/2009, ECE R49 Rev. 6)
US EPA 2010 (EPA 40 CFR part 86 N&I, EPA 40 CFR part 1065)

Non-Road vehicle / equipment applications:

EU Stage III & IV (Dir. 97/68/EC with amendment 2004/26/EC)
US EPA Tier 4 interim / Tier4 final (EPA 40 CFR part 1039, EPA 40 CFR part 1065, EPA 40 CFR part 86l, ....)
Typical power classes
---
System Scope
Automation and control
PUMA Open automation and control is part of the AVL Suite™, providing uniform usability and compatibility throughout all AVL Suite™ products. Embedded emission test application software is used for the entire emission test regulation compliance.
Load system
Passive or active dynamometer based load systems provide thermally optimized design for highly accurate and highly repeatable engine power determination
Baseline measurement
This includes a suitable range of sensors and transmitters for temperature and pressure measurement via AVL front end modules. Measuring devices for blow-by, lambda and combustion analysis are also part of this scope.
Fuel consumption
Measurement and conditioning high precision measurement of diesel and gasoline fuel consumption is compatible with most modern common fuel injection systems.
Exhaust emission measurement
AVL exhaust measuring systems, particulate sampling systems, soot and opacity smoke measuring devices are considered for both diluted and undiluted exhaust gas sampling and analysis.
Air measurement & conditioning
All the required measurement and conditioning units are available, from intake air consumption measurement and conditioning to boost air cooling and exhaust back pressure adjustment.
Coolant conditioning
In order to keep the engine's cooling water temperature within specified tolerances and to achieve highly repeatable testing conditions.
Test system mechanics
Suitably sized air spring designed base plate in combination with an engine mounting system for precise positioning and alignment of the engine to the dynamometer shaft.
System integration and start-up service
The customer is assisted by AVL's professional project services from project kick-off up to final acceptance with start-up suppor.
---