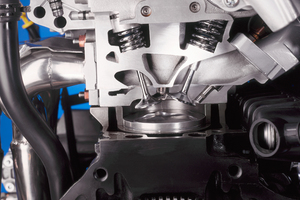 Combustion Systems for Future Powertrain
Advanced SI Combustion Concepts
To meet forthcoming fuel economy targets the automotive world is challenged to steadily introduce more and more advanced combustion systems. Many of these combustion systems are already under development:
Miller- and Atkinson-Cycle
HCCI homogeneous charge compression ignition
Applications for alternative fuels (CNG, alcohol fuels, synthetic fuel, etc.)
Many others
The challenges for powertrain development due to increasing complexity and high degree of sophistication can only be handled with proven know-how and powerful tools.
---
AVL Approach
AVL has high competence levels to provide appropriate solutions and know-how.
Furthermore, AVL also is able to deliver methodology and development tools that enable successful transfer of advanced concepts into products for mass production.
---
Market Requirements
To stay competitive in a market environment with legislation and clients demanding continuous improvements in technology, advanced R&D (research and development) for new combustion systems as well as system components is the key. All SI gasoline engine technologies, which cover all the different applications, are available in AVL. Furthermore, AVL continuously works on evolutionary improvement of these systems, to provide leading-edge technology solutions:
Conventional applications
Variable valvetrain
Variable compression ratio
Variable charge motion
Cylinder deactivation
Cooled EGR, active exhaust gas cooling
Injection systems for
MPI and GDI (homogeneous as well as stratified)
Liquid and gaseous CNG and LPG fuels
All kinds of different aspiraton systems
NA naturally aspirated
Mechanical or electrically boosted
Turbo charged (single- as well as multi-stage)
Unconventional charging
Highly advanced systems
Miller- and Atkinson-Cycle
HCCI homogeneous charge compression ignition
Applications for alternative fuels
Unconventional ignition systems
Many others
---
Customer Benefits
AVL is permanently developing new and future leading combustion systems. This work is performed within a framework of internal R&D activities, collaboration with publically-founded development programs and in cooperation with many different automotive customers. These intensive activities for developing new technologies bring AVL into a very unique position to make available:
Technology Solutions
Development systems and tools
Competence and know-how
Patents and IPR
Support within AVL´s global network
---
References
The challenges and the final outcome of these future leading technology development programs are described in hundreds of publications which are presented to automotive industries on a global scale.
---