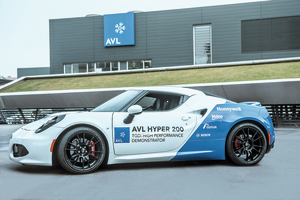 Modularity, high specific output and RDE-2 compatible
AVL HyPer 200 concept engine
TGDI High performance demonstrator
The AVL HyPer 200 concept engine achieves 200 kW per liter and low consumption while still meeting ever more stringent emission legislation. It is based on an innovative 4-cylinder gasoline concept and reaches 474 hp at 8000 rpm out of 1.75l engine displacement. With its new water injection it went "green", performs in the lambda-1 range and is RDE-2 compatible.

---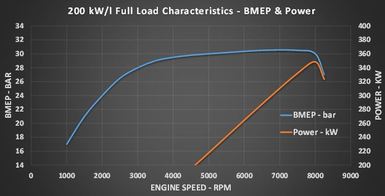 The Challenge
Find a modular high-performance engine concept
Which engine concept fulfills my needs best in terms of high performance, efficiency and cost?
Can an existing engine family be upgraded to achieve high performance output?
How to solve emission challenges and improve fuel consumption?
Which boosting system can push performance further?
---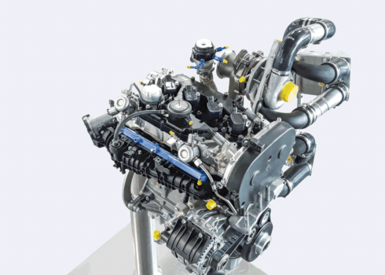 The AVL Solution
1.75l GDI TC engine delivering 349 kW (474 HP) @ 8000 rpm
Maximum Torque: 422 Nm (30.5 bar BMEP) @ 7000 rpm
NEW: Water injection for RDE: lambda 1 operation up to 170 kW/l
Reinforced crankshaft, con rods, pistons
New cylinder head cooling concept
New cylinder head material
Updated combustion system
New fuel injection system layout (350 bar)
Revised valve train
Bi-turbo charging with two-stage series compressor
12V / 48V DC/DC converter
Electric Supercharger 48V
Optimised periphery
---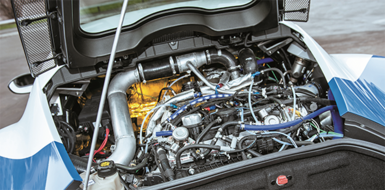 The Added Value
New technologies such as two-stage series compressor offer a wide range compressor map providing high boost pressure with excellent efficiency.
Such technology can be utilized for aggressive Millerisation, improving fuel economy further.
The extremely challenging time frame – less than one year from concept to first presentation of driveable vehicle – was achieved with a highly motivated team and a great spirit.
---