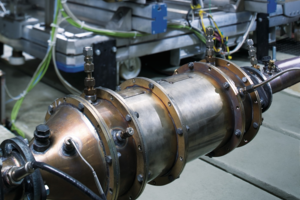 Combustion Development for Commercial Vehicles, On-Road and Off-Road
AVL has the in-depth knowledge for developing combustion concepts ranging from Euro III or similar up to EU VI or similar and for on-road as well as off-road engines. Due to the high focus on alternative fuels AVL has built up significant know-how in the area of gas engines complying up to EU VI or similar. AVL's solutions are customized for specific boundaries (e.g. SCR only, DPF applications,…) To be prepared for future market requirements, research is done on technologies as waste heat recovery systems, hybrid technologies, innovative technology concepts and alternative fuels.
---
AVL Solution
Combustion development has always been one of AVL's key disciplines. For commercial vehicles AVL provides solutions for conventional diesel as well as for natural gas application and alternative fuels.
As well as conventional development work, AVL supports customers in their strategic decisions by means of studies based on AVL consolidated knowledge.
Combustion development for commercial vehicles covers the following items:
Layout and definition of combustion system and fuel injection equipment
Performance development
Emission development
Hardware definition as turbocharger, turbo compound and EGR strategy in close collaboration with AVL applied thermodynamics
---
AVL Approach
AVL Powertrain Engineering is your expert partner for the development of innovative powertrain systems. From diesel engines to electric drives, from alternative fuels to control software, from transmissions to batteries, we have been supporting the automotive and mobility industries for more than 60 years. Unique synergies with AVL Instrumentation and Test Systems and AVL Advanced Simulation Technologies lead to highly creative, mature and application-specific solutions for our customers to meet their future market challenges.
---
Market Requirements
Engine development focuses on the optimization of emission behavior, engine efficiency and power density. However, the development process has recent been primarily driven by emission legislation. For future applications engineers will concentrate more on fuel efficiency and the fulfillment of greenhouse gas emission targets, also by integrating alternative technologies in existing powertrain configurations.
---
Customer Benefits
Customized solutions for specific boundaries
Efficient and flexible performance & emission development on AVL testbeds
Testbed development supported by development tools as DoE, 1D thermodynamic simulation, 3D CFD, MoBEO
In-use conformity tests with portable emission measurement equipment (PEMS)
Homologation on testbed and vehicle
Whole development from one source
Development support from first concept to test bed homologation and later support of off-cycle emission tests (PEMS measurements)
---
References
Euro VI and Tier 4 development & calibration for European OEM
Euro VI/Tier 4 homologation including off-cycle emission (PEMS) certification
Testbed investigation and development on waste heat recovery
Testbed investigation and development on vehicle cooling systems
Lean burn and stoichiometric performance & emission development on natural gas engines
Single cylinder combustion development for diesel as well as gas engines
Customer specific development also for emerging markets
---