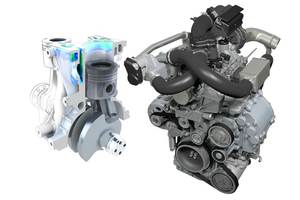 Internal Combustion Engine Design
Internal combustion engines (ICE) will be the backbone for vehicle powertrains even in the foreseeable future. But additional measures are necessary, to fulfill today's stringent emission standards and to further increase the efficiency - development targets, that only can be reached with modern technologies, design methods and tools. AVL's 60 years of experience in the development and design of internal combustion engine are a capital that counts even more nowadays. We have all needed competence for the solution of the new challenges under one roof – a strong engineering team, most modern development equipment and – last but not least – proven and efficient processes for designing IC engines in the shortest time with the highest quality.
---
Solutions
Development and design of all types of IC engines (diesel, gasoline and alternative fuels) for all levels of specific power, injection and charging technology
Expertise for all kind of industries and applications, from motorcycles and passenger cars up to large engines for ships or power generation
Extensive internal R&D activities and broad project experience up to SOP and beyond
Innovative and reliable solutions for various emission standards (exhaust aftertreatment systems, catalytic converters etc.)
Efficient and proven simulation-driven design processes for optimized development timing
Innovative and future leading powertrain concepts (e.g. downsizing) from low cost entry level up to premium applications
---
Benefits at a Glance
More than 60 years of experience in engine design and development of IC engines
Access to a wide range of top technologies developed by AVL
Comprehensive databases for market overviews, benchmarking and concept evaluation
Seamless integration into powertrain systems
Utilization of synergy effect, all competences under one roof
Tailor-made projects with dedicated cost and time frames, from component level up to complete ready-for-production engines
Optimal utilization of resources and development facilities
---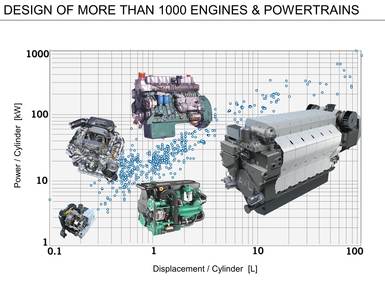 References
AVL has more than 60 years of experience in engine and powertrain development and was involved in more than 1.500 engine development projects.
---