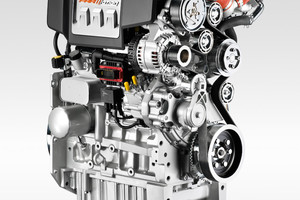 Internal Combustion Engines for Industrial Machinery and Tractors
All engines for industrial machinery need to cover an enormous range of different applications in terms of design, duty cycles and operational conditions. This requires a dedicated engine architecture as well as a high degree of flexibility to adapt the engine to the individual requirements. AVL is involved in engine and powertrain development programs with all major industrial machinery product manufacturers and supplying industries worldwide. This means that AVL has the expertise to provide precisely tailored solutions and leading edge technology for our clients. All this experience shows direct advantage in every single customer project to quickly find the optimum solution tailored to each customer's different requirements. AVL has developed unique tools for the development of engines in the complete powertrain and to optimize the interaction between the different powertrain systems.
---
AVL Solution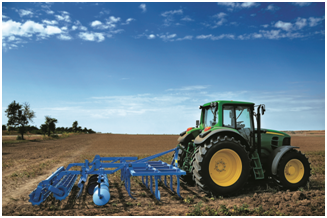 New engine developments for industrial machinery engines as well as upgrades or smaller improvements
Alternative fuel engine development as e.g. Gas engines
Fuel efficiency improvement activities
Optimizing the interaction of the engine in the complete Powertrain.
Engine Portfolio consulting
Application variant development
All engineering activities as design and simulation, calibration, acoustic engineering up to benchmarking
---
AVL Approach
While compliance with the most stringent emission legislation standards worldwide is essential, the focus is also on product cost reduction and TCO (total cost of ownership), where fuel economy is an important factor.
The internal combustion engine will continue playing a major role in future industrial machinery powertrains

Alternative fuel concepts such as natural gas engines will become more important for all engine sizes, mainly due to the beneficial fuel price and focus on CO2 emissions.

AVL has several ongoing R&D programs addressing different measures to accomplish then best solution for our customers.

To analyze the dedicated application and its variants by system engineering means to really tailor the final technical solution in order to develop the engine.
The requirements may differ to the on-road application, therefore a careful analysis is necessary to find the optimum for off-road applications. Parameters such as heat rejection and packaging are very important whereas emission fulfillment and good fuel economy are pre-conditions.
Cost conscience has become very important in the whole automotive industry particularly in the commercial vehicle business for off road engines. Product cost and total cost of ownership (TCO) are more important than ever. Development efficiency is a key area of focus for most OEMs.
The significant step in reducing emissions the last 10 years has led to the implementation of costly engine aftertreatment systems. AVL has developed methods to allow a significant reduction of the EATS product cost by means of advanced emission models as well as the development of more efficient EAS coatings.

AVL's model based calibration tool (MobEO) is a well proven tool to cut development time and avoid expensive iterations with physical hardware (engines, EAS).

Another very valuable tool for reducing development time and cost is an efficient validation method. AVL has developed the unique load matrix approach which helps to tailor the validation for the intended application.

The unique AVL tool chain consists of smart simulation applications covering all needed areas to guarantee an efficient development process.
---
Customer Benefits
AVL has earned a leading position in the development of commercial engines and powertrains. You will be working with a reliable partner providing multiple benefits:
AVL provides a global market overview of the diverse requirements for different markets and applications
Access to a global network of well experienced engineering resources and well equipped facilities
Use of AVL's extensive technical and market experience to investigate the future potential of your engine portfolio
AVL provides methods and technologies to handle the complexity of developing and maintaining all required engine variants and options. For example AVL's MoBEO (model based engine optimization) shifts expensive testwork to the virtual phase
Solutions are tailored to each customer's specific requirements, making it possible to position the customer's product on the market according exactly to the customer's strategy and product plan
Working with a partner who can optimize your engine in the complete powertrain for its optimal application
---
References
Due to the strong focus on the development of commercial engines and powertrains, AVL has set trends in the last few years with the development of more than twenty heavy-duty engines and powertrains, as well as more than thirty in the medium and light-duty class:
Development of off-highway engines leading in performance, fuel economy and flexibility for applications
Development of "world engines", combining the requirements of global sourcing and distribution
Engine applications for new powertrain technologies for different vehicles and markets
Several strategic engine portfolio analyzes for different markets
---