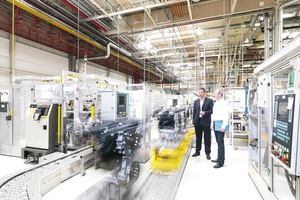 Plant and Production Engineering
AVL offers its services as an independent engineering partner delivering development and production expertise for our customers. Uniquely integrated and in partnership, this provides the highest quality, tailor-made manufacturing solutions for the most challenging demands.
---
AVL. Driving products and production. Simultaneously. Innovatively. Customized.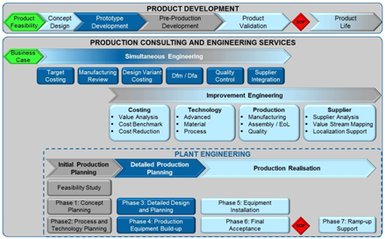 AVL Solution
AVL's Plant and Production Engineering solutions encompass services that cover the entire product life cycle. In the design phase, aspects of manufacturability and costs are systematically incorporated. Optimizing and improving the productivity of manufacturing processes including the analysis of quality problems is another thrust of AVL's portfolio. AVL also plans and implements production lines and facilities from the customer's first ideas to the production launch.
Our solutions include a supplier development program, which ensures that the customer receives the right product at the right time. The main objectives are reduced costs, improved quality and improved delivery performance.
---
Benefits at a Glance
Development and production hand in hand – creating synergies through simultaneous product and production development
Robust design and cost effectiveness – mass production aspects considered early in the design phase
Strong focus on quality: early Q-planning during product development and production planning
Continuous improvement during the whole product life cycle
Right-first-time design of products and faster-to-market through AVL's own production development process
High-level production expertise
---
References
For further information contact our experts on this topic:
---