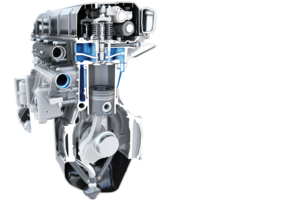 Powertrain Design for Heavy-Duty On-Road
Give your customer the best reasons to buy your product: high efficiency, reliability, driveability, low fuel consumption and conformity with the newest emission standards - and select the best partner to realize it as effective as possible. AVL's team of experienced design engineers is familiar with the special tasks of commercial vehicles of all sizes – and how to solve them. We will help you find the optimal design with a balance between increasing powertrain complexity and the life cycle costs of the vehicle.
---
Customer Benefits
Development and design is our business – AVL has set trends with the development of more than twenty engines and powertrains over the last few years. Use our expertise for your advantage:
Deep knowledge of the newest technologies for heavy-duty powertrains (partly hybridization, waste heat recovery etc.)
Access to AVL patented key technologies to cope with future emission and reliability requirements (AVL top-down cooling system, unique main bearing wall concept)
Integration of modular EAS-System into vehicle package
Mass production supplier involvement in an early design stage
Gain synergy effects of entire product portfolio at AVL
---
References
AVL is the worldwide the preferred partner for commercial powertrain design and development from light and medium-duty, right up to heavy-duty applications.
Market leader for medium-duty engine families in the Indian market
Market leader for HD engines up to 16L swept volume
HD truck transmissions up to 2600 Nm, 9 to 16 speed
Unique DCT transmission technology for HD application
Electrification of auxiliaries (multi-fan drive)
Development of Euro6 and Tier4 final powertrains for leading OEMs
---
Solutions
Validated concept decisions on system and component level by elaborated design methodology and powerful simulation tools
Intelligent solutions for stringent emission scenarios through optimized powertrain and exhaust aftertreatment systems (EAS)
Optimized fuel consumption through manual shift, AMT and DCT transmissions, in combination with optimized engine setup
Optimized validation planning for targeted lifetime and predicted duty-cycles with AVL Load-Matrix
Innovative solutions for vehicle cooling (e.g. multi-fan drive) including thermal management systems
Target and trend analysis on the base of a comprehensive benchmark and measurement data database
---